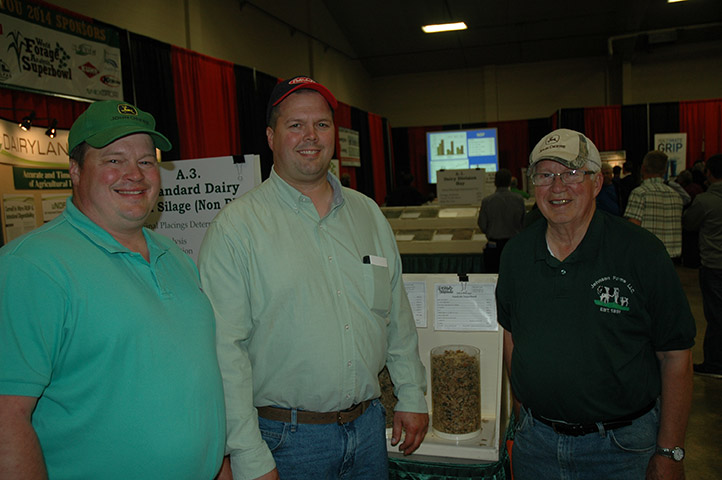 This year's grand champion winners of the World Forage Analysis Superbowl came as a complete surprise. 
This is the first year Dave, Dennis, Ed and Cubby Johnson entered the World's Forage Analysis Superbowl. In fact, unbeknownst to them, their seed dealer had pulled a sample from their bunker and entered the contest.
Dave, Dennis and Ed Johnson (left to right), Daggett Mich., won the World Forage Championship with their corn silage entry, Master Choice 527. The silage had a final score of 96.71 and had a milk per ton estimated production of 3,766 lb. They won $2,500 for taking the contest's top prize, which was presented by Kemin.
The Johnsons, who milk 1,650 cows and farm 4,700 acres, had one of their best cropping years ever in 2013, says Dave and Dennis' dad, Ed, who has been farming 57 years. The winning hybrid produced 27 to 29 tons/acre last year, double what the Johnsons normally grow on their land 80 miles north of Green Bay in Michigan's Upper Peninsula.
Johson's normal silage management program is to use inoculant on their entire crop, seal the bunker with Silostop double-ply cover, and use a facer at feed out. Currently, cows are eating 60 lb. of corn silage dry matter, producing 90 to 94 lb./cow/day with 3.2% protein, 3.8% fat and a somatic cell count of 110,000 cells/ml.
This year, 468 forage samples were vying for their chance at more than $22,000 in cash prizes in seven different forage categories including brown midrib corn silage, standard corn silage, haylage, baleage, commercial hay, dairy hay and grass hay. "It is truly a credit to all forage growers that this contest has been able to grow and thrive while featuring the very best forages from around North America," states Doug Harland of Dairyland Laboratories, Inc.
When the contest started in 1983, it featured just to two categories, hay and haylage, and had 58 entries. Since then, five additional categories have been added resulting in continuous growth and a record number of samples this year.
The World Forage Analysis Superbowl is organized in partnership with Dairyland Laboratories, Inc., DairyBusiness Communications, Hay & Forage Grower, U.S. Dairy Forage Research Center, University of Wisconsin-Madison and World Dairy Expo.
Click here for a full list of winners.