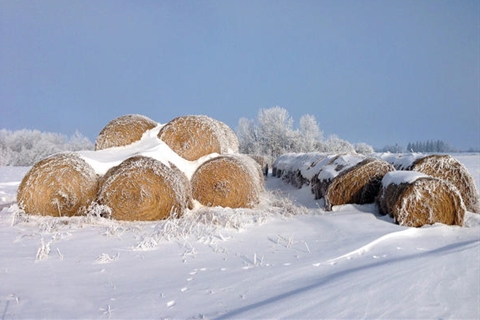 As the first real cold spell of the season sweeps across much of North America, it's time to master winter lingo.
Polar vortex is a good place to start.
It became a real buzz term earlier this year during the bouts of bitter cold weather in the U.S. East and Midwest in January and February. Since then, there has been something of a retreat in its use, in part because the vortex is an actual phenomenon characterized by westerly winds that circle the Arctic and keep cold where it belongs.
Some cold snaps are caused by a break in the vortex that lets the air escape. Some cold spells aren't.
"This is another term that has gotten abused, misused, and misconstrued about 100 different ways," said Todd Crawford, a meteorologist at Weather Services International in Andover, Massachusetts. "The polar vortex itself never really comes into the U.S., although there is something to the idea that the vortex does become greatly distorted from a circular shape to something resembling a chewed piece of gum."
Polar vortex isn't the only designation that has entered the vernacular and found itself meaning many things to different people. Even the weather services, which come up with specific definitions for events, don't always agree on meanings.
Take blizzard, for example. In the U.S., the term is used once there have been three hours of winds blowing at 35 miles (56 kilometers) per hour or more, combined with such intense snowfall that it reduces visibility to a quarter-mile or less, according to the National Weather Service.
Canada's Different
If you are in Canada and have lived through three hours of that, you'd still have an hour to go. There's one caveat, though: A Canadian blizzard doesn't have to be quite so robust in the wind department.
Winds, sustained or gusts, must be about 25 mph, visibility less than six-tenths of a mile and temperatures must be 32 degrees Fahrenheit (zero Celsius).
Summer terms get different definitions, too.
Many U.S. weather service offices declare heat waves when temperatures hit 90 degrees or more for at least three consecutive days. Yet the glossary on the main National Weather Service website says a heat wave is "a period of abnormally and uncomfortably hot and unusually humid weather" that will last for two or more days.
Europe's Different
The U.K. Met Office doesn't define heat waves. Instead, it points to a definition it says is used by the Geneva-based World Meteorological Organization that puts it at five consecutive days where the average maximum temperature is 5 degrees Celsius above normal.
Why does this matter?
Experts need continuity for definitions in order to conduct research that has any meaning. For that reason, there are efforts to standardize some terms needed for global measurements.
There are times, however, when continuity would actually be a hindrance rather than a help.
Winter storm warnings issued by the U.S. weather service vary depending on where in the country you are.
In New York, such a warning is issued if 6 inches (15 centimeters) of snow or more is forecast in 12 hours or 8 inches or more in 24 hours, said Joe Pollina, a weather service meteorologist in Upton, New York.
Georgia's Different
In Georgia, warning triggers look like this: 2 inches or more of snow in 12 hours, 3 inches in the mountains, or 4 inches in 24 hours anywhere in the state, said Carly Kovacik, a weather service meteorologist in Peachtree City, Georgia.
A warning will also be issued if a half-inch or more of sleet or a quarter-inch or more of freezing rain is forecast, she said. Got all that?
This is a case where context is everything. New York has a lot more experience than Georgia in dealing with winter storms. Last winter, 2.5 inches of snow stranded 25,000 students in Atlanta-area schools, shut highways and caused at least 1,250 accidents.
Then there's sleet and freezing rain. Sleet is rain that falls through a thick layer of cold air and freezes before it hits the ground, according to the weather service. Freezing rain falls through a thinner layer of cold air, arrives as a liquid and freezes on contact with a surface. It can encase just about anything in ice.
So when the wind starts to blow and the temperature drops, you now know whether you're caught in a vortex, a blizzard or just a plain old blustery day.
Blustery, by the way, is defined as winds of 15 mph to 25 mph -- in the U.S., at least.