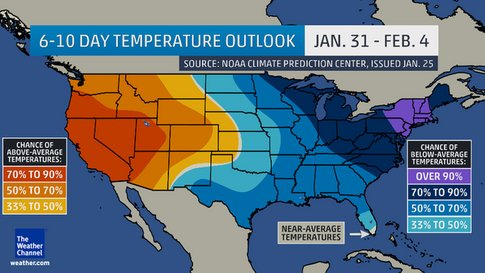 The nor'easter currently set to blitz across New England, dropping as much as 30 inches of snow along the way, is a stark reminder – winter is waning, but there's still a ways to go.
That's doubly hard to keep in mind in the Midwest and Great Plains this week, where temperatures have soared well above normal once again. Today, highs in the 70s are possible as far north as Nebraska, with 60s into parts of western South Dakota and central Montana. And on Tuesday, areas of western Kansas will be warmer than Miami!
But Corn Belt farmers will have to get the rest of January, February and even March behind them before they can stop worrying about snow for good this winter. Near-term forecasts are already predicting cooler-than-normal weather. Temperatures in the eastern Corn Belt has a 50% to 70% of sinking back below normal starting this weekend.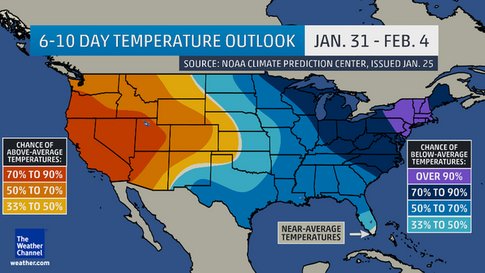 In fact, continued temperature fluxuations are likely for the rest of the winter, according to University of Georgia climatologist Pam Knox due to a so-called "high amplitude pattern." That weather phenomenon has created alternating surges of colder and warmer air in the eastern two-thirds of the country, she says.
Over in Alaska, Art Nash, who is an energy specialist with the University of Alaska-Fairbanks Extension service, has put together some energy-saving tactics for homeowners. He says with Alaskan energy bills some 300% higher than the national average, it's a topic he tends to keep front-of-mind in the winter months.
Seal fireplaces when not in use.
Prevent mineral corrosion and buildup on electric hot water heaters.
Fix leaky water faucets and running toilets.
Install low-flow aerators on faucets.
Install low-flow showerheads.
Only wash full loads of clothes in cold water.
How has the 2014-15 winter season been so far in your area? Voice your thoughts on the AgWeb discussion boards.