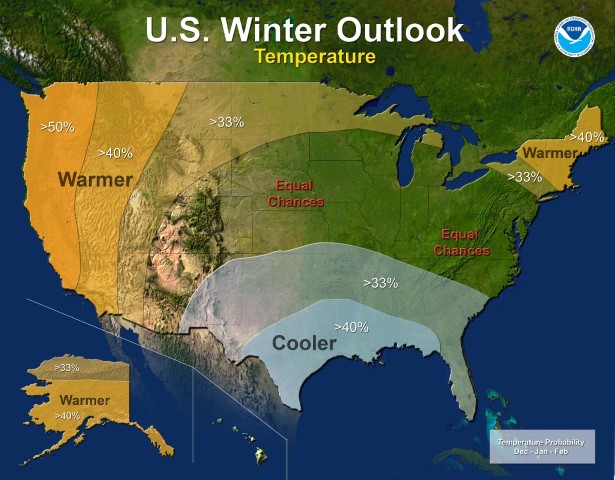 The National Oceanic and Atmospheric Association (NOAA) released its winter weather outlook. And anyone in the Midwest looking for a clear indication of what to expect should instead get used to hearing these two words: equal chances. That's because indications aren't clear yet whether Dec.-Feb. temperatures will be great, average or terrible.
Further west, however, climatologists are predicting a drier, warmer winter with greater confidence. Unfortunately, that means California's record-setting drought will likely persist or even intensify across the state. About 60% of California is already entrenched in exceptional drought after suffering through 2013, the driest year on record.
"Complete drought recovery in California this winter is highly unlikely," says Mike Halpert, acting director of NOAA's Climate Prediction Center. "While we're predicting at least a 2 in 3 chance that winter precipitation will be near or above normal throughout the state, with such widespread, extreme deficits, recovery will be slow."
There's still a chance that El Niño, an ocean-atmospheric phenomenon in the Tropical Pacific that affects global weather patterns, could still develop this winter, which could deliver cooler, wetter weather to the western U.S.
Last year's winter got blast-chilled weather east of the Rockies. NOAA says a repeat performance is unlikely, although it is predicting cooler-than normal weather south of the Mason-Dixon.
NOAA also notes that it does not provide total seasonal snowfall accumulations. Individual winter storms are generally not predictable more than a week in advance.
"The events that make winter memorable, such as big snowstorms, depend on conditions in the atmosphere that are just not predictable on timescales beyond a week or two," Halpert says.
More on NOAA's winter outlook is provided in the video below: