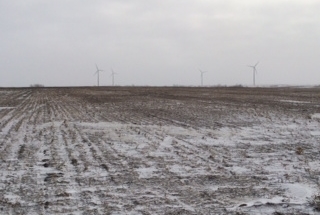 Lack of deep snow cover in Kansas, Nebraska and parts of South Dakota has people talking about whether next week's warm up, coupled with the lack of protection from snow, could damage the winter wheat crop.
Kansas, the nation's top producer of winter wheat, produces about 22% of the nation's winter varieties. Nebraska and South Dakota each account for 5% of national production.
"There is a swath of snow cover from southwestern South Dakota to northeastern South Dakota," said Natalie Umphlett, regional climatologist with the High Plains Regional Climate Center in Lincoln, Neb. "But snow has been light, especially in eastern North Dakota."
The bulk of the winter wheat grown in the three states has only 2 to 4 inches of snow cover, and some people think that estimate is too high at this point, said Joe Lardy, research analyst for CHS Hedging in Inver Grove Heights, Minn.
"For the next four to six weeks, you have to be concerned about a warm up and a late freeze, particularly in Kansas and Nebraska," says Lardy. "South Dakota has more snow cover, and winter wheat will break dormancy much later in South Dakota."
A sustained stretch of warm temperatures, not just a spike in temperatures, followed by a hard freeze is when the damage to winter wheat occurs, he noted.
"We are in for a warm up," says Umphlett. "The outlook calls for above-normal temperatures across much of the Plains states."
Through March 18, high temperatures in Dodge City, Kansas, the heart of the state's winter wheat belt, for example, are expected to average in the mid-60s, which is about 10° F above normal for this time of year, Umphlett said.
As of early this week, the condition of the winter wheat crop in the Great Plains had only deteriorated slightly over the past two months, and 44% of the crop in Kansas and 62% in Nebraska was rated in good or excellent condition, according to voluntary monthly reporting by several states.
Mandatory weekly NASS Crop Condition reports will resume April 6.
What are you seeing in your fields? See what others are saying and email us your Crop Comments. (Photos welcome.)