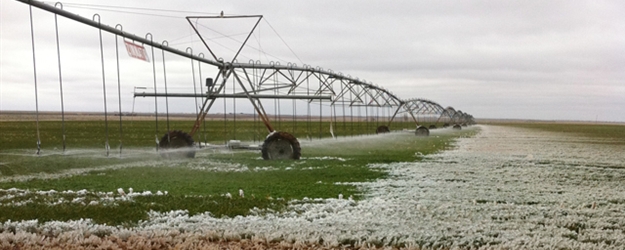 Most farmers in the Midwest aim to do spring fieldwork during the middle of April, not watch snow fall. But, that's what many farmers in the Plains, Corn Belt, Great Lake states and even portions of the South saw Sunday, Monday and Tuesday.
On the Plains, a late-season cold outbreak continues to threaten jointing winter wheat across the southern half of the region, reports USDA's in its April 15 agricultural weather highlights. The National Weather Service continues freeze warnings today across a large area from the central and southern Plains into the middle Mississippi Valley and the mid-South. Freeze warnings have already been issued for Wednesday morning from the Ohio Valley and mid-Atlantic region southward.

This late-season cold blast is hitting the nation's winter wheat crop at just the wrong time, as winter wheat that is jointing is extremely susceptible to frost damage.
On April 13, 80% of Oklahoma's wheat was jointing, along with 31% in Kansas and 6% in Colorado. In Texas, 16% of the wheat is headed. This morning's temperatures dipped to 32°F or below throughout Oklahoma and western Texas, with numerous readings below 25°F.
Overall, 5% of the nation's winter wheat crop is headed. Winter wheat conditions are pretty dismal, as only 5% of the crop is rated excellent and 30% rated good. The majority, 34%, is rated fair, while 20% came in at poor and 12% at very poor.
Watch this report from AgDay to learn more:

With drought already sapping soil moisture across the Great Plains, the biggest growing region, a polar vortex in early 2014 draped fields in a deep freeze, killing more plants than normal. According to a Bloomberg report, wheat fields are showing the worst amount of damage in five years.
Winter kill and damage is evident in many parts of the country, according to AgWeb's Crop Comments. In Reno County, Kan., a farmer reports that some wheat fields getting blue spots from drought, while some hills and hillsides getting a yellow green tint to them probably from cold winter or wheat mites or both.
"Winter kill in this area is severe!" reports a farmer from Ward County, N.D. "I have never seen such a large complete loss due to winter kill before. Winter kill is around 100% damage in all fields in this area. Stubble cover and maturity of the plants did not make a difference. It is 60 degrees and no sign of anything greening up."
What's ahead in your weather forecast?
AgDay Meteorologist Mike Hoffman says snow fall is running from the Tennessee Valley to the Ohio Valley.


Read and watch more news and videos from Top Producer's Power Hour.