Winter wheat production is forecast at 1.40 billion bushels, down 9 percent from 2013. As of May 1, the United States yield is forecast at 43.1 bushels per acre, down 4.3 bushels from last year.
Hard Red Winter production, at 746 million bushels, is up slightly from a year ago. Soft Red Winter, at 447 million bushels, is down 21 percent from 2013. White Winter, at 209 million bushels, is down 7 percent from a year ago. Of the White Winter production, 10.9 million bushels are Hard White and 198 million bushels are Soft White.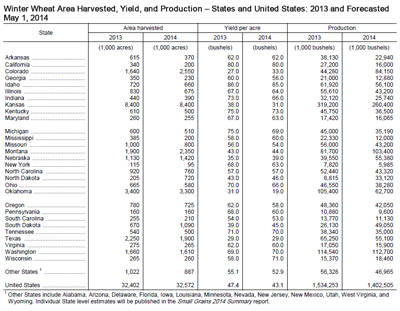 ..................................
Complete Coverage of May 9 USDA Reports
See AgWeb's full coverage of the May 9 reports, which include USDA's Crop Production and World Agricultural Supply and Demand Estimates (WASDE).
---