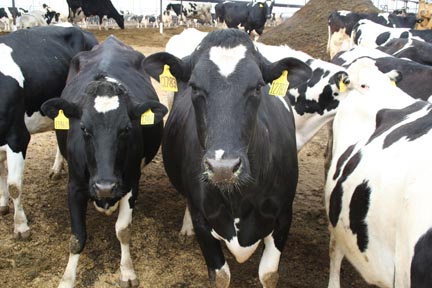 Milk Source Holdings Inc.'s plans have been tied up in the courts for three years.
RICHFIELD, Wis. (AP) — A milk producer's plans for a $40 million mega-farm in Adams County have been tied up in the courts for about three years.
Now the company, Milk Source Holdings Inc., is making plans to move forward once it gets the final environmental impact statement from the Wisconsin Department of Natural Resources. The company is hopeful about the future of its proposed animal feeding operation in Richfield, Bill Harke, director of public affairs at MilkSource, told Daily Tribune Media (http://wrtnews.co/1wlLorG ).
Milk Source plans to stock the facility with 4,300 dairy cows and 250 steers. Two high-capacity wells will pump at a maximum rate of 52.5 million gallons each year.
The company has been growing crops on the land since it was purchased in 2011, Harke said. But it's not sure when construction on the new farm will begin.
Milk Source needs to complete work at two Michigan operations, which came about while the company was waiting for the mega-farm plans to progress, before it begins work on the new Richfield farm, Harke said.
But the Richfield operation is all set in terms of design and permits, Harke said.
"Everything is in place that would allow us to do our farm," he said. "We are just waiting for the DNR to rule from its last public hearing."
The DNR held a hearing in mid-October to allow people to provide input on the environmental impact statement. The agency allowed people to submit written comments about the draft until Monday.
Milk Source is essentially free to begin working on the Richfield operation, according to DNR public affairs manager Bob Manwell, but the comments could result in addendum to the environmental impact statement.