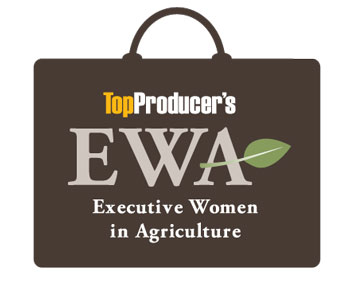 Ag conference brings together business-minded leaders
Women make up more than 30% of all farm operators. As the transition continues to the next generation of female farm managers and owners, there has never been a greater need to provide education on farm business practices. More than 300 women representing at least 25 states traveled to Chicago in December 2014 for the fourth annual Executive Women in Agriculture (EWA) Conference.

"There is no other women's event in agriculture focused on business skills, marketing, networking and management development for farmers," says Jeanne Bernick, Top Producer editor. "We create a community for like-minded women to come together and talk about issues related to agriculture, life on the farm and business."

The event featured dynamic keynote speakers, educational breakout sessions and a networking reception.
---
By Sara Schafer 

Illinois producer Kate Danner (left), Indiana producer Kerry Dull and North Dakota producer Jennifer Holle share business insights at Top Producer's 2014 Executive Women in Agriculture conference. 
Tips For A Rock-Solid Business Plan
Farm ownership and management isn't easy. In Chicago, women business leaders shared their insights for building a strong plan. 

Hire Out Weaknesses. A group of specialized advisers is smarter than any one farmer. That's the mantra of Jennifer Holle of Northern Lights Dairy in Mandan, N.D. "Get a team together that you trust," she advises.

Shadow Other Businesses. As owner of Dull Tree Farms in Thorntown, Ind., Kerry Dull wishes she and her husband had spent more time visiting and learning about other tree farms early on. "We made a lot of mistakes by not being mentored," Dull notes. Now, Dull Tree Farms invites people to visit, volunteer and learn.

Schedule Your Transition. Kate Danner of Longley Farms in Aledo, Ill., works alongside her father. The two have agreed on a 15-year farm transition timeline. "I repeatedly tell my parents that they built this farm," Danner says. "I want to grow it into the future, and I can't do that without them." 
---
By Jeanne Bernick
Take These Steps Before You Grow
In the past five years, the U.S. lost 90,000 farming operations. Yet most of those farms weren't lost, notes Jill Eberhart, CPA and principal with Kennedy and Coe. Rather, they consolidated. 

"Large operations are going to get even larger, and they are different," Eberhart explains. "The proportion of total acres farmed by those with 5,000 acres or more could grow from 25% to 36% in the next five years." 

Prepare to make the decision to grow by taking five steps:  
1. Know your current operation.
2. Be true to long-term goals.
3. Get buy-in from family, lenders and other stakeholders.
4. Perform due diligence.
5. Work out the logistics of your integration. "If you are buying land 100 miles from your home, who is going to manage that?" Eberhart asks. 
---
By Sara Schafer
How To Frame Major Decisions For Greater Success
Typically, a good business decision for your farm results in a positive outcome, and a bad decision results in a negative outcome. Yet in some cases, the opposite is true.

To make the right call more often than not, managers must adopt a structure for particularly big and business-changing decisions, advises Nicole Olynk Widmat, ag economist at Purdue University.

Instead of simply reacting to opportunities, develop strategies to buy new land, diversify or add new people to your team. Olynk Widmat suggests using the PrOACT model, which involves mapping out a problem and identifying related objectives, alternatives, consequences and trade-offs. Adopt these steps in 2015 to streamline your planning process.
Problem: To make a good decision, you must work on the right problem. "Normally you don't get credit for finding the problem," Olynk Widmat says. "But you must first define the problem so you don't just treat symptoms." 
Objectives: Good objectives, like well-defined problems, make decision analysis much easier, Olynk Widmat explains. Objectives are the criteria for a decision, and they help a business manager determine what is sought, explain choices to others and determine the importance of the decision.
Alternatives: Think through numerous alternatives to decisions. "You can't pick an alternative that has not been proposed," Olynk Widmat notes. "Outstanding decision-makers are exceptional at generating alternatives."
Consequences: For each alternative, identify and explore consequences. Make sure the list is complete and precise so the impact of the decision can 
be fully understood.
Trade-offs: Evaluate possible trade-offs by ranking alternatives to each.
For more stories and photos from the 2014 Executive Women in Agriculture conference, visit www.execwomeninag.com
---
Thank you to our 2014 EWA sponsors: Advance Trading, BASF, Bayer CropScience, Conservis, Dow AgroSciences, Farm Credit, Kennedy and Coe, Illinois Soybean Association, JohnDeere, Monsanto America's Farmers Mom of the Year, Stewart Peterson, Syngenta, Top Third Ag Marketing, United Soybean Board, Verdesian