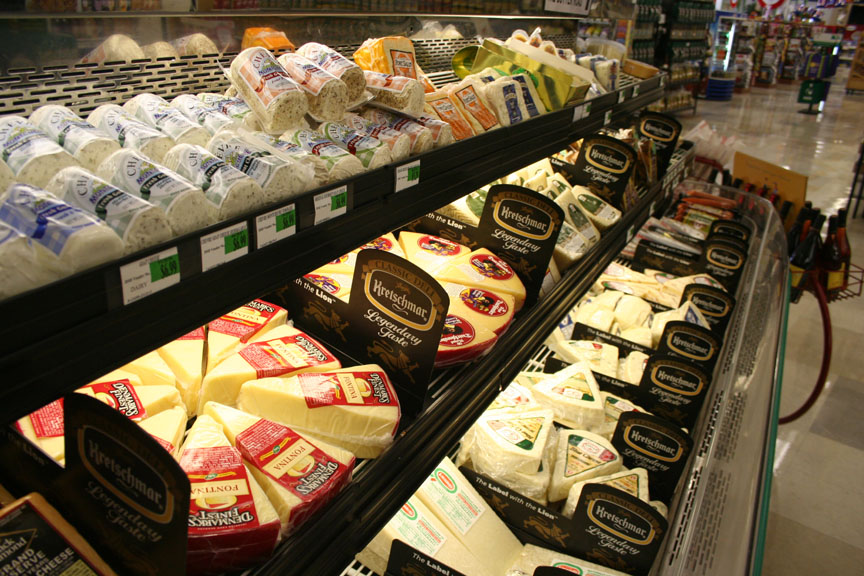 Food prices are falling amid an outlook for bigger grain crops, rising milk output as well as a recovery in U.S. pork production.
Rudy Ruitenberg
World food prices tracked by the United Nations fell for a seventh month in October, the longest slide since 2009, adding to falling energy costs in slowing inflation and making nutrition more accessible.
An index of 55 food items fell 0.2 percent month-on-month to 192.3 points, the lowest since August 2010, the UN's Rome- based Food & Agriculture Organization wrote in an online report today. The index is stabilizing, it said.
Food prices are falling amid an outlook for bigger grain crops, rising milk output as well as a recovery in U.S. pork production. That is helping slow global inflation, already aided by a slump in oil prices, with Goldman Sachs Group Inc. forecasting world annual average consumer prices will rise 3.3 percent next year from 3.5 percent in 2014.
"On the consumer side, obviously there are tangibly lower prices across the board that should in some way filter down," Abdolreza Abbassian, a senior economist at the FAO, said by phone from Rome. "With the kind of inventories we are building, the world can stand some declines in production next year."
A second year of rising world grain stockpiles is expected to pad the buffer against harvest setbacks to the highest in 15 years, the FAO forecasts. The inventories outlook will probably weigh on grain prices until next season, Abbassian said.
The food-price index declined 6.9 percent year-on-year, falling from the year-earlier period for a 16th month, the longest such slide since 2000. The FAO said it made some revisions to how the index is calculated extending back to 1961.
Food Riots
The FAO's index rose to a then-record in 2008, and surging food prices triggered more than 60 riots worldwide from 2007 to 2009, the U.S. State Department estimates. After falling in 2009, food prices rose to a new record in 2011, contributing to civil unrest across the Middle East and North Africa that toppled governments in Tunisia and Egypt.
A gauge of dairy declined 1.9 percent from September, the FAO reported. Skimmed milk powder prices in Oceania fell 2.3 percent last month as milk output in New Zealand has recovered from drought, according to data from the U.S. Department of Agriculture, while Dutch milk powder prices fell 5.5 percent amid rising volumes in the European Union.
"Quotations for butter and whole and skimmed milk powder fell," the FAO said.
Meat Index
The FAO meat price index fell 1.1 percent to 208.9, with restated numbers showing the gauge dropped for a second month from a record 212 points in August.
U.S. pork prices are sliding as the hog herd recovers from an outbreak of viral disease. U.S. boxed pork spot prices fell 20 percent in October, USDA data show.
"Pig meat prices have shown signs of weakness since July, as production recovered in some of the countries affected by outbreaks," the FAO said.
The FAO's grain price index rose 0.2 percent to 178.4 points.
"After five months of steep falls, international prices of wheat and coarse grains firmed slightly in October, supported by harvest delays in the U.S. and deteriorating prospects in Australia," the FAO said.
The FAO raised its forecast for global wheat production in 2014-15 by 4.1 million metric tons from a month ago to a record 722.6 million tons. The outlook for coarse grains such as corn was cut by 5 million tons to 1.303 billion tons.
World stocks of grain are predicted to rise to 624.7 million tons at the end of the 2014-15 season from 578.6 million tons a year earlier, climbing to the highest in 15 years. That will lift stocks-to-use ratios to 25.1 percent from 23.5 percent, a 12-year high, the FAO said.
An index of vegetable oil prices rose 1 percent to 163.7 amid slowing palm oil production in Malaysia and Brazil, while the sugar price index jumped 4.2 percent on a smaller-than- expected cane crop in drought-affected parts of Brazil.