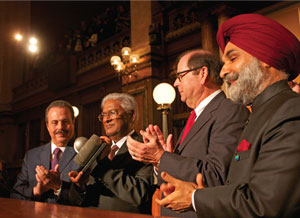 By Jessica Vaughn
Researchers and world leaders gather to address the greatest challenge in human history
Whether it is a smallholder farmer in Africa planting a single acre of maize by hand or a large-scale producer in Kansas riding atop a combine to harvest 500 acres of wheat, all those vested in agriculture work toward the same goal: feed people around the world. By 2050, it's predicted farmers will have 9.5 billion mouths to feed. Using the same land base, yields will have to increase 60% to meet the challenge. The World Food Prize, a summit that recognizes global agricultural leaders and researchers, calls this task the greatest challenge in human history. 

About 1,300 people from 60 countries attended the World Food Prize in Des Moines, Iowa, in mid-October. As part of the event, the Borlaug Dialogues focused on hunger and food security, specifically crop yields, soil health and sustainability.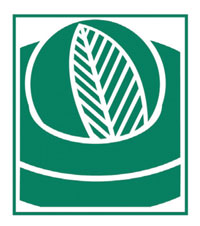 These crucial matters hit home in new ways in West Africa and other countries suffering from the deadly effects of Ebola. In Sierra Leone, 40% of farms have been abandoned since the outbreak began. 

"It [Ebola] came in May, which was the peak of the cultivation season," said Joseph Sam Sesay, Sierra Leone minister of agriculture. "That has negatively impacted agriculture to the extent that instead of 11.3% annual economic growth rate for 2014, we deflated it to 7%, and today we are estimating 3%."

The severe decline in economic growth comes after Sierra Leone was named one of the top 10 fastest growing agricultural economies in the world last year. Agriculture and related systems make up more than half of the livelihoods in Sierra Leone and Liberia. The disease and its crippling effects have impacted more than 7,000 people, which in turn has affected food production. 

"We should begin to prepare ourselves for the aftermath when the disease is over," Sesay said. "If not, we're looking at a major regional food crisis. In some regions, there's going to be a lot of food because they can't sell, and prices will to plummet. In others, there's going to be a lack of food, and prices will skyrocket."

In his presentation via satellite, Sierra Leone President Ernest Bai Koroma focused on his faith in the next generation and their commitment to agriculture. He also acknowledged World Food Prize founder Norman Borlaug's humanitarian efforts and imagined support of the fight against Ebola.

"He was a man who loved food production. He was a man who loved youth," Koroma said. "In the 1940s, when scientists were trying to split the atom bomb to cause destruction, Norman Borlaug was attempting to split wheat to feed millions."

Continuing Borlaug's vision of a world without hunger, Sanjaya Rajaram was named the 2014 World Food Prize laureate. Rajaram, a wheat geneticist who worked closely with Borlaug, was born in India but is also a citizen of Mexico, which is where he spent most of his research career. He met Borlaug early in his career while studying in Australia. After two years working under his wing, Rajaram was appointed as director of Borlaug's wheat program in Mexico. 

Rajaram is responsible for breeding more than 400 varieties of the cereal grain and creating a hearty breed of wheat that is able to grow in a variety of environments. His innovations increased total wheat yield by nearly 30%. It is easy to see that Borlaug's legacy has lived on through his protégés' accomplishments. 
A key topic of discussion at this year's World Food Prize was food waste and food loss. In developing countries, almost 65% of food loss happens post-harvest. Loss can be attributed to lack of transportation and storage as well as insects and disease. During a USDA panel, Rajaram said post-harvest loss needs to be solved in order to eliminate global hunger.

Karim Chrobog, who produced "Wasted," a short film, also addressed the issue during a panel discussion hosted by the Pulitzer Center. There have been reductions in consumer and business food waste, he said, but full understanding is needed by the public. According to USDA, $161.6 billion worth of food was wasted in 2010. 

"We need to change our perception of what food waste is," Chrobog said. "It's hard money. It's jobs. It's not just wasted food."

Feeding 9.5 billion people in a sustainable manner is a daunting task, but World Food Prize leaders believe it can be accomplished through further research and production increases.  
---
A Team Effort to Fight Hunger
Farmers Feeding the World, a platform of the Farm Journal Foundation, participated in a breakfast and panel discussion hosted by the Alliance to End Hunger at the World Food Prize. Discussion topics ranged from precision ag to the congressional scorecard on hunger. The panel was moderated by Ambassador Tony Hall, executive director emeritus of the Alliance to End Hunger, and included Dr. Manjit Misra, the director of Iowa State University's Seed Science Center; Mitch Davis, director of Global Shared Value and Corporate Social Responsibility for Elanco Animal Health; Jimmy Smith, director general of the International Livestock Research Institute; David Beckmann, president of Bread for the World; and Dave Nelson, vice president of Nelson Family Farms and a representative of the Farm Journal Foundation.