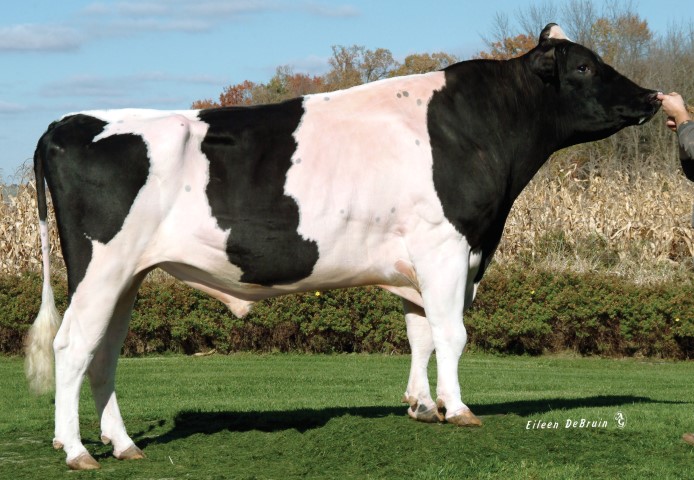 Source: Genex Cooperative
TOYSTORY, the well-known Genex Cooperative, Inc. bull, has passed away at the age of 13 after producing over 2.4 million units of semen and positively impacting dairy herds around the world.
"The death of TOYSTORY means the passing of the industry's most prolific sire," states Keith Heikes, Genex Chief Operating Officer. "This bull was one of a kind for many reasons." 
TOYSTORY was born at Mystic Valley Dairy near Sauk City, Wisconsin, in May 2001. At his November 2005 debut in the artificial insemination (A.I.) industry, TOYSTORY was noted as "the new must-have sire, whether your breeding goals are profitability or show-type." His daughters provided a level of productivity, profitability and improved conformation that impressed producers as well as show judges across the globe. 
In addition to his outstanding genetic qualities, TOYSTORY possessed an unmatched semen production ability. In April 2009, he joined an elite group of bulls throughout the industry that had produced 1 million units of semen. Then, in May 2011, he became the industry's all-time semen production leader surpassing the previous world record of 1.767 million units held by the Dutch bull Sunny Boy. By May 2012, TOYSTORY had furthered his impact on the A.I. industry reaching a remarkable 2 million units. At the time of his death, TOYSTORY had produced 2.415 million units. 
"In his lifetime, TOYSTORY reached a level of semen production that might never occur again in history," remarks Heikes. "With the genetic progress possible in the dairy cattle industry today, through technologies such as bull evaluations based on genomics, it is very possible that no other bull will ever surpass his record." 
While the story of TOYSTORY ends today, his legacy lives on through his many offspring; he remains a sellout bull with semen sold in more than 50 countries. 
"TOYSTORY produced 2.415 million units and was known for his genetic credentials and above average sire fertility. He was an incredible story," remarks Heikes. 
About Genex
Genex Cooperative, Inc., headquartered in Shawano, Wisconsin, is the trusted provider of world-class animal genetics, progressive reproductive solutions, value-added products and innovative services to members and customers across the U.S. This is accomplished through 950 dedicated employees working in three product and service segments: cattle genetics and reproduction, livestock marketing, and milking and farmstead equipment. Genex is a subsidiary of Cooperative Resources International. Learn more at http://genex.crinet.com.