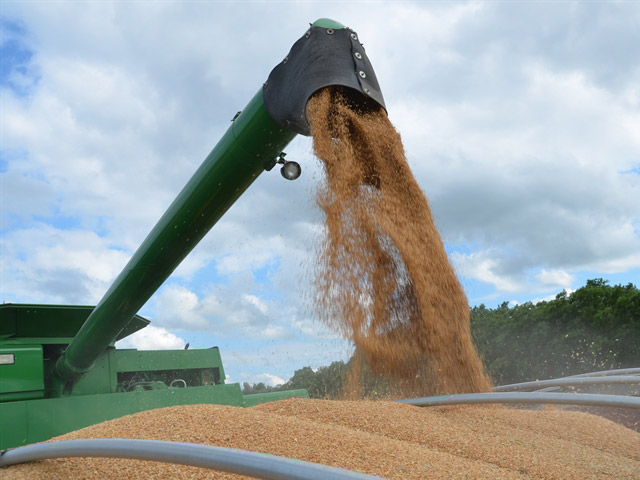 The world will have even more wheat than expected, increasing a grain glut that's kept a lid on global food inflation.
The U.S. Department of Agriculture raised its outlook for world stockpiles by 0.9 percent to 197.85 million metric tons in a report Tuesday. That's bigger than the 196.22 million expected by analysts surveyed by Bloomberg. The agency also boosted its estimate of global corn inventories by more than expected.
Wheat and corn prices fell in Chicago after the report. The world's farmers will collect bigger harvests of both crops than forecast last month, the agency said. Combined global wheat and corn inventories will rise to the highest since 2000, easing concern about shipments from Ukraine and Russia amid political turmoil in the region.
"There's still plenty of corn throughout the world," Terry Reilly, senior commodity analyst at Futures International in Chicago, said in a telephone interview. With bigger wheat stockpiles, "we have a little bit more wiggle room if Russia or Ukraine export a little less," he said.
World grain production in the season that began July 1 will rise to the biggest ever, the United Nations' Food & Agriculture Organization said Feb. 5. The agency's measure of food prices fell in January to the lowest level since 2010.
Wheat futures for March delivery fell 1.6 percent to $5.215 a bushel at 12:31 p.m. on the Chicago Board of Trade, heading for the biggest loss in a week.
'Substantial' Supplies
"Combined grain supplies are substantial, and the market will not shift attention to the spring-planting progress and crop development across the Northern Hemisphere," Jerry Gidel, the chief feed-grain analyst at Chicago-based Rice Dairy LLC, said in a telephone interview.
Expectations for bigger supplies prompted hedge funds and other speculators to cut bullish wagers on agricultural commodities at the fastest pace since August 2013 in the week ended Feb. 3. The combined net-long position across 11 farm products fell 37 percent to 209,282 futures and options contracts, Commodity Futures Trading Commission data show.
Expanding surpluses have left most raw materials mired in bear markets. The Bloomberg Commodity Index has dropped for seven straight months, the longest streak since 2009. The gauge is down 20 percent in the past year.
Corn futures for March delivery declined 1.3 percent to $3.8625 a bushel on the CBOT, heading for the first drop in four sessions.
Soybean futures for March delivery fell 1 percent to $9.69 a bushel.