2014 Recognition Award Winners
Some people are just natural leaders by design. Often it is a special purpose or drive combined with a visionary mind that set them apart. These people are constantly searching for opportunities to create positive outcomes. It might involve years of careful genetic selection, decades of building and testing research models or thousands of daily conversations that help consumers to have a better understanding of dairy products. These leaders know that to be successful in any endeavor, one must keep moving forward.
What they may not always realize is the important legacy that they leave for others in the industry. The passion that they have expressed while serving the global dairy industry will serve as a pattern for others.

The 2014 World Dairy Expo Recognition Award Winners are: Dairy Woman of the Year—Pam Bolin of Beaver Creek Farm, Clarksville, Iowa.; Dairyman of the Year—James S. Huffard III of Huffard Dairy Farms/Duchess Dairy, Crockett, Va.; Industry Person of the Year—Curtis P. Van Tassell, DVM, USDA–Agricultural Research Service, Bovine Functional Genomics Laboratory, Beltsville, Md.; and International Person of the Year—Lowell Lindsay, Retired, Semex Alliance, Guelph, Ontario.
"World Dairy Expo [WDE] is excited to host these four dairy industry leaders in 2014," shares Scott Bentley, WDE general manager. "Their creative and unique contributions to the industry have strengthened the whole dairy community. World Dairy Expo wishes to congratulate each of them on being honored as a 2014 Recognition Winner."

WDE will be honoring the four outstanding dairy leaders at the 2014 Dinner with the Stars banquet on Wednesday, Oct. 1, at the Alliant Energy Center in Madison, Wis. Tickets for the event are $30. Reservations to attend are required by Monday, Sept. 22. For information about the event, visit www.worlddairyexpo.com or call (608) 224-6455.
---
Pam Bolin is a dairy farmer that has stepped up to lead all of her life. She was active in 4-H and took on community and industry leadership roles starting as a youngster. Her passion for the people of the dairy industry kept her engaged and only grew stronger over time. She has earned the recognition as one of the dairy industry's most articulate leaders. She has dedicated her life to the promotion of dairy.

Pam and her husband, Dave, have owned and operated Beaver Creek Farm for more than 30 years. Their mixed herd of registered Holsteins, Guernseys and Jerseys maintain high production and quality genetics levels. In addition, they actively show dairy cattle at regional and state shows. Beaver Creek Farm has been recognized by the Holstein Association USA and American Guernsey Cattle Association. Bolin remains active in the day-to-day chores and business details. The Bolins have three grown children, Matthew, 32 (Ashley), Daniel, 30 (Lynn) and James, 27 (Nicole). She is actively engaged in family, church and community activities.

Bolin's role as a full-time dairy producer has not kept her from volunteering to lead in critical dairy positions. She has served as board chair of Swiss Valley Farms since 2007. Prior to that leadership role, she contributed in key committee roles such as strategic planning, university and legislative, governance and member relations for the milk marketing organization. She was active in the Swiss Valley Young Cooperator program, Corporate Board for Midwest Dairy Association and the Iowa Nutrition Advisory Committee. She has previously served on the National Dairy Board, the Dairy Management Inc. board and the Iowa Farm Bureau. She is leading in the dairy industry, and has spoken on behalf of dairy producers and the dairy organizations in which they participate.
---
James S. Huffard III grew up on his family's dairy. At an early age, he began aspiring to leverage the family's strong foundation herd and build upon those early successes. He attended college, earned a bachelor of science degree in Dairy Science from Virginia Tech, and then returned to his family's dairy to be responsible for the breeding program. Their breeding philosophy focused on profitable production. Jim accelerated the genetic progress of his family's production-focused herd by enrolling all of the unregistered animals in the American Jersey Cattle Association's Genetic Recovery Program and purchased select animals from deep cow families to compliment the herd.
He bred many sires for AI, including Schultz Performing Legend and Schultz Brook Hallmark. He was also an early adapter of emerging trends such as polled genetics and began selectively breeding for that trait. Schultz Legal Critic-P is one of the resulting high genomic young sires that have been used as a sire of sons across the breed.

Jim started his leadership path by serving as a director for the Virginia Jersey Cattle Club. In 1988, he was elected to the American Jersey Cattle Association (AJCA) board of directors—one of the youngest breeders ever elected to that important role. While fulfilling two terms, he chaired the performance committee and led discussion about adding vital genetic evaluation information on individual animal Official Performance Pedigrees and compiling lists of high-ranking cows and bulls.

Jim became the first AJCA president for the new millennium. His practical experience as a Jersey breeder, combined with his enthusiasm, drove his success in helping to refine the Jersey genetic indexes and new selection tools for producers to manage genetic progress. Jim was appointed to fill a board of director position on National All-Jersey, the milk marketing arm of AJCA. Later he served as vice-president of that organization.

In 2009, Jim, along with his brother and neighbors, established Duchess Dairy to market a significant portion of their milk direct to consumers. They recognized that there was a local demand for fresh milk produced at local farms. This business venture has been successful and continues to grow—now marketing to more than 80 stores in the Blue Ridge Mountains area. Jim has proven that a dairy owner, committed to producing high-quality milk from carefully selected dairy cows can be successful in his own operation, while also serving as a leadership role model for future generations of dairymen and women.
---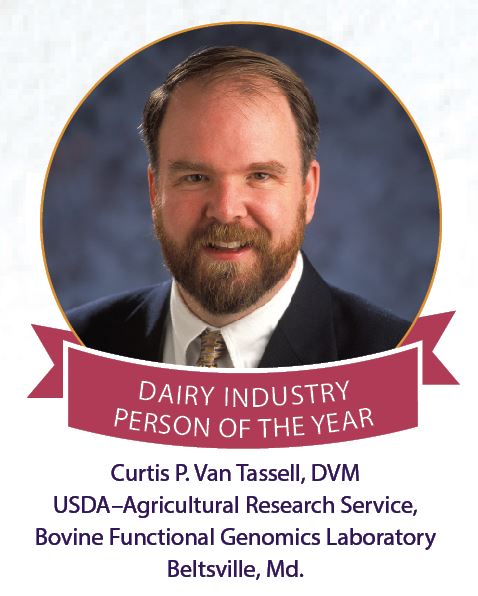 Curt Van Tassell has proven the importance that research and scientific discovery play on the everyday lives of dairy producers. His focus on dairy cattle genomics and the ability to unlock new genetic information in newborn animals has revolutionized the dairy genetic selection processes. His work has provided leadership in developing the prediction of genetic merit and associated genetic selection. Now, dairy breeders from around the world may access a variety of economical genomic testing options to assist with marketing and culling decisions.

With Richard G. Gibbs at Baylor University and Jerry Taylor at the University of Missouri, Van Tassell was project leader of the Bovine HapMap Consortium to sequence the bovine genome. Through these scientific discoveries, the group developed the foundation for genomic testing platforms.

Van Tassell was principal in the development of the Bovine SNP50 Chip (Illumina). This chip is the
global standard for predicting genomic merit. Modern AI sire selection and mating decisions are now made based on this genomic test. Many dairy breeders have been able to capture increased value for their high-ranking genomic animals due to this DNA test and the resulting additional information.

Van Tassell has been invited to share his research at international gatherings including World Dairy Expo, International Plant and Animal Genome Conference in California, Beef Improvement Federation meetings, Bill and Melinda Gates Foundation in Kenya, Applied Genomics for Sustainable Livestock Production in Australia, X!! QTL-MAS Workshop in Sweden, International Society of Animal Genetics in Brazil and the US-EC Workshop on the Future of Livestock Genomics in Belgium. The global dairy genetics industry will be influenced for many years because of
Van Tassell's intellect, vision and creative research.
---
Lowell Lindsay has devoted his life to his career in the dairy cattle industry. His passion for great cows has always driven his success in a career has spanned more than 43 years. Lindsay has become known as a passionate promoter of Canadian dairy cattle genetics, a world-renown cattle judge and one of the most successful sire analysts in the industry. In addition, he has been instrumental in supporting dairy youth activities that prepare them for a future in the dairy industry.

As an Ontario youngster, he learned how to properly fit dairy cattle, setting the pace with his modern clipping techniques that enhanced the animals' appearance. Starting as an AI technician in 1968, Lindsay's keen interest in dairy cattle was evident and he was quickly promoted to Sire Analyst in 1970 at Central Ontario Breeders, now EastGen (a partner in the Semex Alliance).

Lindsay hit his stride in this position and built the respect of dairy cattle breeders from around the world. Through his work and travels around the world, he worked with many of the industry's most famous cows and sires. Influential Holstein sires that he acquired include Ultimate, Warden, Lindy, Astro Jet, Gibson, Leader, Lheros, September Storm, Broker and Regal-Red. His success in acquiring great sires is legendary. 

Perhaps best recognized as a professional judge, Lindsay began evaluating show cattle in 1960. He continued judging dairy cattle shows on the global level for more than 50 years and is revered as one of the most talented judges in dairy cattle circles. He set the standard for how to professionally judge major dairy shows. Lindsay has taken on more than 200 show assignments as official judge in more than a dozen countries including Spain, Ireland, Japan, Brazil, Argentina, Australia, Germany, U.S., England and Scotland.

Lindsey was honored in the 2013 Canadian Agricultural Hall of Fame for his dairy industry contributions. He is a founding member of the organizing committee for the first Canadian National Judging Conference, founding leader and committee member of the Scotia Bank
Classic 4-H Show and a director of the Ontario Dairy Youth Trust Fund. Lindsay has shaped the direction of the dairy cattle industry and is preparing a legacy to ensure that the industry's future leadership is well-prepared to take the reigns.