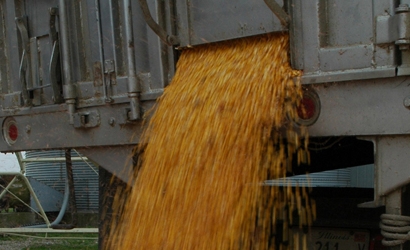 The International Grains Council has projected world grain stocks at levels not seen since 1987-88. The intergovernmental group raised its estimate 3 million tonnes to 190 million tonnes for world corn stocks at the close of 2014-15, up 17m tonnes year on year - the most in 27 years. 190 million tonnes is approximately 418.9 billion pounds.
The group cites improved hopes for crops in Brazil, Europe and Ukraine for the higher projections.
"Northern hemisphere [corn] yield prospects continued to improve in August, including in the US, where crops have benefitted from a prolonged period of benign weather," the council says. "The outlook for corn is notably higher, with a record outturn in the U.S. and upward revisions for Brazil, the European Union and Ukraine."
In the U.S., 73% of the crop was rated good or excellent by the USDA (as of August 24) and is still on pace for record-breaking yields. That's good for farmers but a challenge for markets, according to NCGA President and Illinois farmer Martin Barbre.
"As harvest draws closer, the crop quality reports remain impressively strong," he says. "Yet, corn farmers continue to see a decline in the price that will be paid for their potentially record crop."
Barbre says this year's production situation only heightens the need to promote demand and continued market growth.
"For some, current market conditions could result in prices possibly below that of production," he says. "We have done the work in the fields - we must now do work to build markets. We must speak up and make sure that the government does not take any action on our behalf to further jeopardize our markets or increase our cost of production."
Visit the USDA's crop progress report for up-to-date information on corn, soybeans, wheat, sorghum, cotton and other key crops.