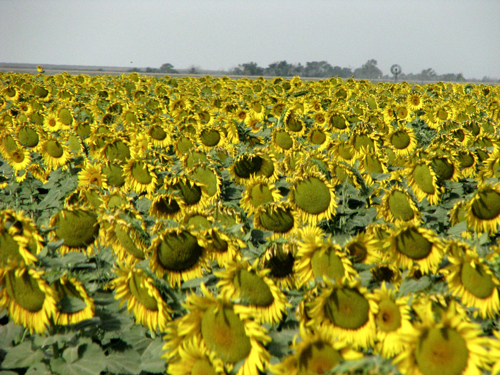 Global production of 10 major oilseeds is forecast to climb 3 percent in 2014-15 on a bigger soybean harvest, lifting stocks to a record by the end of the next season, Oil World said.
Oilseed output may rise to 510.65 million metric tons from 495.64 million tons in 2013-14, the Hamburg-based researcher wrote in an e-mailed report, trimming its outlook from 511.17 tons at the end of May on a smaller peanut crop.
Growers across the globe may reap a record soybean crop, with U.S. farmers lifting planting by 2 million hectares to 33 million hectares, the most ever, Oil World said. Southern Hemisphere areas may grow at a more moderate pace due to prices and crop-rotation requirements, according to the researcher.
"Current indications of the global supply and demand outlook for the 2014-15 season point to unusually large supplies of oilseeds and a further increase in stocks to all-time highs, under the lead of soybeans," Oil World said. "If our forecasts materialize, world oilseed supplies will become ample next season."
Soybean production may jump to 301.9 million tons from 284.11 million tons. The U.S. crop may rise to 98.5 million tons from 90.5 million tons, Brazil's harvest may climb to 90 million tons from 86.5 million and Argentina may gather 56 million tons from 55 million a year earlier, the forecast shows.
World rapeseed output may fall to 68.59 million tons from 69.73 million tons, with Canada's expected crop slipping to 15.8 million tons from 17.96 million. European Union rapeseed output is seen climbing to 22.42 million tons from 21.23 million tons, according to Oil World.
Sunflower Seeds
Sunflower seed production may decline to 40.63 million tons in 2014-15 from 41.96 million tons this season, while output of cotton seed is seen falling to 42.75 million tons from 43.67 million tons.
The global harvest of peanuts may slip to 27.76 million tons from 28.34 million tons. Oil World reversed its outlook for rising production on lower estimates for China and India, the biggest growers of the oilseed also known as groundnuts.
Crushing of the 10 major oilseeds is predicted to rise 3.7 percent to 420.69 million tons, Oil World said. That's seen lifting output of 10 seed oils by 3 percent to 109.52 million tons, while production of nine oilseed meals climbs 4.1 percent to 289.77 million tons.
"As crushings are likely to be increasingly driven by vegetable oil demand, the prospective acceleration of oilmeal production is likely to result in price weakness of meals relative to oil," the researcher wrote.
Combined Stockpiles
Combined stockpiles of oilseeds are forecast to rise to 104.2 million tons at the end of 2014-15 from 88.44 million tons the prior season, the report showed.
Palm oil production next season will probably increase at the slowest pace since 2009-10, climbing to 202.31 million tons in the year through September 2015 from 197.01 million tons a year earlier, the researcher said.
Oil palms in parts of Malaysia and Indonesia are showing signs of drought stress after dryness in the January to March period, causing fruit drop, Oil World wrote. The trees are at a further risk of drought from a possible El Nino weather event developing later this year, the researcher said.