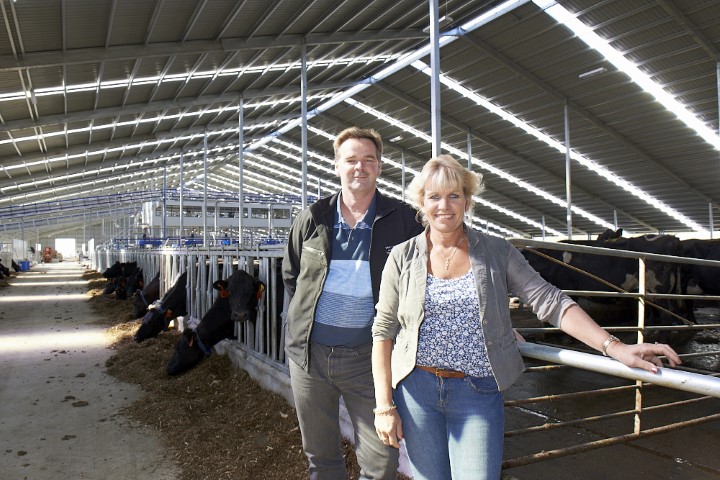 Source: DeLaval
The van Leeuwen dairy farm in New Zealand has become the site of the world's largest robotic milking installation for free cow traffic under one roof.
With 24 new DeLaval voluntary milking systems (VMS), the 1,500-cow barn in Makikhi South Canterbury has gone from milking zero to 750 cows in just seven days in just half the space available. The barn is expected to be running at full capacity by year end.
DeLaval worked closely with the van Leeuwens to meet their needs, providing a complete package to deliver excellence in animal health, efficient milking and a farm that works in synergy with the environment, at scale.
Technical details
• Twenty four DeLaval VMS™ will deliver milk from 1,500 cows to two silo tanks outside the barn.
• The liquid milk is cooled on its way to the tanks. In the first section, this is done using a pre-cooler and in the second section it is done using a water chiller. This is extremely cost efficient and at the same time delivers the best possible quality of milk to the dairy. Having one supplier for this solution was important for van Leeuwen.
• The water used for pre-cooling is later given to the cows and the heat recovery system takes care of the warm water needed to clean the milking robot.
• Using a central vacuum, just three pumps take care of all 24 milking robots.This saves the farmer utility costs and helps reduce the farm's environmental footprint.
• The 24 DeLaval VMS™ are arranged in eight groups with 60-65 cows milked per robot. After milking, the cows either go back to the barn or are sorted into a separation pen for treatment or insemination if required.
• Cleaning of the milking robots is done via a cascade system, so that in each group there is always at least one DeLaval VMS™ available to milk the cows.
• A special lifting gate is used per group to keep fetched cows in the area and after a certain length of time it goes up to enable complete free cow traffic again. During this period other cows can continue to be milked.
• All separated milk, such as colostrum, is collected in just two areas in the whole barn.This measure is necessary to keep physical labor demands low and restrict the spread of bacteria.
• The barn has two feed lanes to increase the feed rack space to increase feed intake per cow.