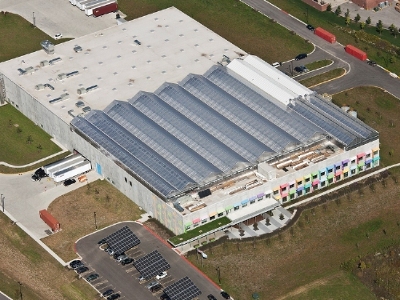 Chicago's South Side is not known for its arable land. But that didn't stop Gotham Greens from building the world's largest rooftop greenhouse on top of Method Products manufacturing facility.
The 75,000-square-foot greenhouse runs on 100% renewable energy, employs more than 50 workers and will produce 10 million pounds of leafy greens and herbs annually.
"Gotham Greens' expansion means even more jobs and investment in the Pullman neighborhood," says Chicago mayor Rahm Emanuel. "Through cutting edge agricultural innovation, they will provide fresh, healthy and locally grown foods to residents across Chicago."
The company says it will distribute its produce to various Chicagoland retailers, including Whole Foods Market, Target and others. It recycles all of its irrigation water and claims zero agricultural runoff. Much of the produce will reach retailers and restaurants the same day it is harvested.
"Above all else, we are focused on growing the freshest, best-tasting produce available," says the company's chief agriculture officer, Jennifer Nelkin Frymark.
Gotham Greens is based in Brooklyn, N.Y., and operates four separate urban greenhouses that total 170,000 square feet.