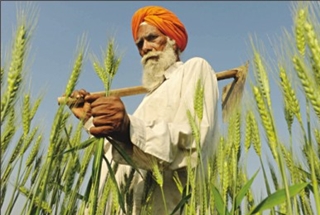 If it was unseasonal rain that ravaged India's wheat crop in 2015, it's a dry spell linked to an El Nino that's marring the prospects this year.
Dry weather in the main planting season reduced the area under the crop by 4.9 percent this year and hurt crop growth early on, the Agriculture Ministry estimates. Cold weather has since returned to northwest India, the main producing region, and it needs to last until March with intermittent spells of rain to enhance yield, according to Indu Sharma, director of the state-run Indian Institute of Wheat & Barley Research.
A second straight year of decline in output will be the first time in four decades and may spur imports by flour mills scouring for cheap supplies. That may help stem losses in futures in Chicago, which capped the third straight annual decline, the longest streak since 1999.
"The weather has been unexpectedly warmer this year, which is bad for the crop," said Amit Tyagi, a third-generation wheat grower from Uttar Pradesh, the nation's biggest grower. "We're praying to God that the current cooler temperatures should continue. Rainfall also needed, but no hailstorm like last season."
Missing Target
The harvest fell to 88.9 million metric tons in 2015, the lowest since 2011, and production may further decline this year, according to Prerana Desai, vice president for research at Edelweiss Integrated Commodity Management Ltd. in Mumbai. The government has set a target of 94.8 million tons for 2016. The harvest normally starts in April and ends by June.
The area under wheat fell to 28.9 million hectares (71.4 million acres) as of Jan. 15, from 30.4 million hectares a year earlier, the Agriculture Ministry estimates. Indian farmers faced an almost dry winter this year after the first back-to-back shortfall in June-September monsoon rain in three decades cut output of rice, corn, cotton and sugar cane.
The El Nino may strengthen in the short term because of recent tropical cyclone activity in the Pacific Ocean, according to Australia's Bureau of Meteorology. The event is still expected to decay over coming months, with a return to neutral conditions expected in the second quarter, it said on Tuesday.
Cold Spell
Northwest India received 26 percent less rain than normal between October and December, while in the central parts the deficiency was 63 percent , according to the India Meteorological Department. The two regions account for bulk of the country's wheat production. Temperatures have fallen about 6 to 8 degrees Celsius below normal in the regions this week and the cold spell will continue for the next three weeks, the agency said.
"If the cooler temperatures continue until end of March that will lead to productivity enhancement," said Sharma of the Indian Institute of Wheat & Barley Research. "Sowing time is already over and most of the farmers have already completed sowing. There will be problem if temperatures suddenly increase. Some rain also needed."
Wheat for March delivery on the Chicago Board of Trade rose 0.2 percent to $4.72 1/2 a bushel by 8:15 a.m. in New York, while futures on the National Commodity & Derivatives Exchange in Mumbai closed 0.2 percent lower at 1,681 rupees per 100 kilograms on Thursday.
India's wheat imports may jump to 600,000 tons in the 12 months through March, according to Edelweiss' Desai. That would be the most since the 1.96 million tons bought overseas in 2007-08, U.S. Department of Agriculture data show.