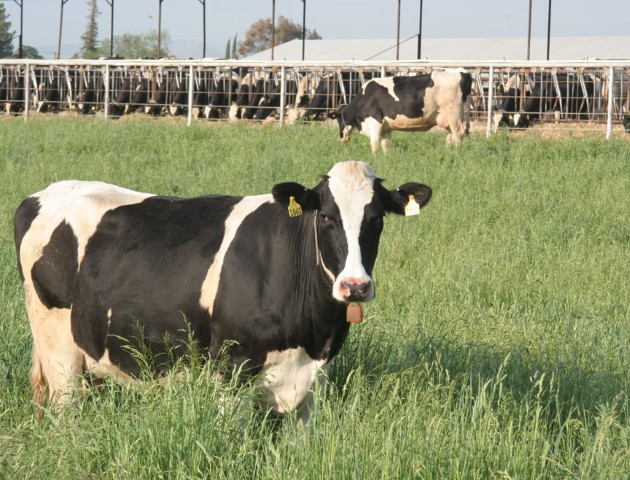 Lowe
r milk prices, not feed supplies, will be responsible for upcoming milk contraction.
Many in the dairy industry have long speculated that water issues in California would eventually curtail production growth, sending the Golden State's dairy industry into decline. It hasn't happened. Now that the state is wrestling with one of its worst droughts in history, speculation has centered around how high-cost or scarce feed will curtail output in the nation's top dairy state.
"I have read a number of times that 'the dairy markets rallied in response to concerns about drought in New Zealand and California.' I just don't buy it," says Sarina Sharp, agricultural economist with the Daily Dairy Report. "The only pressure on dairy producers in California—and elsewhere in the United States—to reduce milk output is economic in nature. And given the very large milk checks of the past year, producers have had plenty of opportunity to build inventories and pre-pay for feed. The drought may have reduced California's forage output, but there is no shortage of feed."
In fact, supplies of grains and oilseeds are plentiful and feed costs are likely to decline across the country, says Sharp. According to USDA's World Agricultural Supply and Demand Estimates (WASDE) released February 10, USDA lowered global soybean stocks slightly to 89.3 million metric tons from January's forecast, but world supplies have grown 56 percent over the past two years. Soybean inventories in Argentina are 59 percent larger than they were two years ago, and in Brazil, they've increased 62 percent.
The estimated U.S. 2014-15 carryout stocks of soybeans at 385 million bushels are down 25 million from January's report, but the carryout is still four times larger than last year's 92 million bushels, according to WASDE. USDA also lowered its 2014-15 estimated corn carryout by 50 million bushels to 1.827 billion bushels, but that still leaves the projected carryout 50 percent larger than last year.
"Dairy producers can expect to pay much less for corn and soybean meal than they have over the past several years," says Sharp. "With few profitable alternatives, farmers are expected to increase soybean acreage again this spring, which is likely to further pressure oilseed prices lower if weather cooperates."
Forage prices also head south
Forage prices have also been declining along with the corn market in most regions. In California, average alfalfa prices have fallen about $100/ton since last summer, but silage prices have remained stubbornly high, says Sharp. "Dairy producers must pay enough, so that corn silage and alfalfa growers can compete with producers of other valuable crops like nuts and citrus for land and water," she adds.
No doubt, severe drought in California has raised farm expenses considerably, but dairy rations in the Golden State are actually less expensive than they were at this time last year, notes Sharp. Drought will raise the cost of production for dairy producers in California who grow their own feed, but for those who purchase feed, she says, the cost of grains, oilseeds, and alfalfa cannot remain above the price of those commodities in neighboring regions plus the cost to ship it in.
Alfalfa prices are beginning to come under pressure due to the labor strike occurring at West Coast ports. U.S. hay exports in 2014 were 16 percent lower than 2013 sales, and 2014 exports fell below year-earlier levels in every month of the year. The U.S. Forage Export Council estimates export losses in November alone at $25.6 million for West Coast hay producers.
"December was the low-water for mark for 2014 alfalfa exports," notes Sharp. "Exports are likely to continue to slide due to the strike, which means more hay for California dairies despite the drought."  
Lower anticipated milk prices in 2015 will result in thinner margins for U.S. dairy producers who failed to lock in their milk and feed prices. "That's likely to reduce U.S. milk output relative to last year," says Sharp. "But while drought remains a huge concern for California, it is likely to have little impact on milk output there in the near term."
To subscribe to the Daily Dairy Report, go to: http://www.dailydairyreport.com/default.aspx and click register.