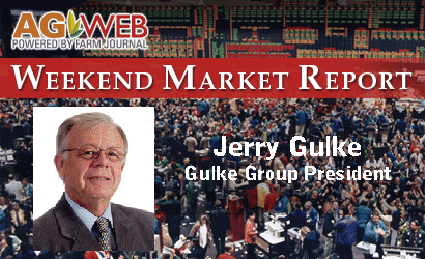 The only way to get a firm handle on how good this year's crop really is, you have to get into the field. Jerry Gulke did exactly that the past two weeks as he's taken a tour of the Dakotas and Illinois.
Believe it or not, North Dakota has a better crop than Illinois, at least in Gulke's opinion.
Calling from North Dakota on Friday afternoon, Gulke says the area he covered in North Dakota is that soybean fields outnumber corn fields by 2 to 1.
"The further I went away from the Red River Valley, the more corn I saw. I was surprised though that I didn't see as much prevent planting as I thought I would. What I did see was soybeans in two different stages. I saw soybeans that looked pretty good and then soybeans that looked half the size and were yellow."
Most analysts, Gulke included, believed producers would take prevented planting on the eastern North Dakota acres. Rather, it appears they decided to plant soybeans and passed on the guaranteed income they could have received from prevented planting acres.
Many of those soybeans fields had standing water and that was the cause of the yellow soybean plants.
Further to the west, where Gulke's farm is, he saw more and better corn. "It's the best crop I've seen all year, including my farm in northern Illinois. If there's not 200 bu./acre corn there, I'll eat my hat. If they don't get an early frost, these guys are going to get the best crop they've ever had."
He's seeing a similar situation in South Dakota. "What corn is there looks astonishing. What got in in time looks very good. Soybeans don't look good at all."
He's seen similar situation in Illinois. At least a crop that doesn't look very good.
Starting just north of Champaign and travelling to near Bloomington, he saw a horror story.
"I saw some of the worst corn that I've ever seen in my life. I did not expect to see $350-$400/acre cash rent land not produce corn."
Closer to Bloomington, the crop got better, he says, calling the corn crop normal. And normal is about the best he thinks you'll see in Illinois.
Emerson Nafziger, crop production specialist at the University of Illinois, says the crop is very spotty in Illinois. Depending on where you are will tell you how good of a crop you have.
Concerns over high nighttime temperatures have entered the market discussions this year, after the 2010 crop suffered through a very hot July. "Last year the crop was not as prepared," Nafziger says. "There is a much better root system this year in Illinois."
Still, you can't tell until you get into the fields and count kernels. That will be the key says Nafziger.