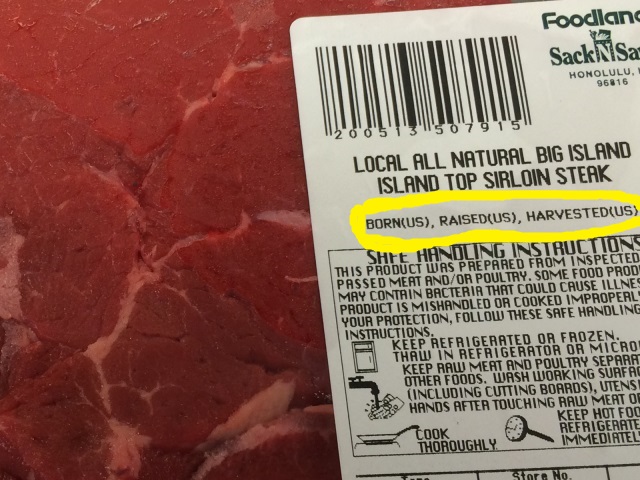 The battle over country-of-origin-labeling, or COOL, is about to get even more costly.
The World Trade Organization (WTO) on Monday announced that an arbitration panel had decided that Canada and Mexico could indeed fight back against the U.S. law requiring country-of-origin labeling on beef, pork and chicken—and slap as much as $1 billion worth of tariffs on U.S. products, including meat.
"We're very concerned," said Nick Giordano, vice president and counsel, global government affairs, for the National Pork Producers Council, on AgriTalk on Monday. "It's a big number, and anybody who has an interest in North American trade should be concerned, because if Canada and Mexico retaliate, it's not going be just pork and beef they're retaliating against, they're going to retaliate against a broad swath of products."
The ruling against the U.S. was not unexpected, but it does illustrate the ongoing cost of the COOL rules, which went into effect in 2009. The U.S. law says that food retailers must tell consumers where various foods such as meat, fruits and vegetables, fish, and more have been produced. Trade partners such as Mexico and Canada say the law violates their trade agreements with the U.S.
Unfortunately for the U.S., the WTO agreed, and the price tag could be considerable.
"As I've said time and time again, whether you support or oppose COOL, the fact is retaliation is coming," said Senator Pat Roberts (R-Kansas), chair of the Senate Agriculture Committee, said in a statement. "Today, the WTO announced just how much that retaliation will cost the U.S. economy. With the WTO announcement, farmers, ranchers and small businesses will soon be smacked with over $1 billion in tariffs."  
Roberts and others, including Agriculture Secretary Tom Vilsack, have said the only option is for Congress to repeal COOL.
"How much longer are we going to keep pretending retaliation isn't happening? Does it happen when a cattle rancher, or even a furniture maker, is forced out of business?" Roberts said. "We must prevent retaliation, and we must do it now before these sanctions take effect … The WTO has warned us multiple times, and Congress has ignored the warning. This is no longer a warning. Retaliation is real. Now more than ever, we need to repeal COOL." 
Colin Wooddall, vice president, government affairs, for the National Cattlemen's Beef Association, agreed.
"That's a significant hit to the U.S. economy, and there's not a single lawmaker up on Capitol Hill--now that this number is out there—who can sit back and justify that kind of retaliation," he said, also speaking on AgriTalk.  "… There is a way to fix it, and it is full repeal of country-of-origin labeling. That is the only thing that is going to work."
(Click here to listen to Monday's AgriTalk discussion on the WTO's ruling on COOL. Look for the "NPPC & NCBA React to COOL Retaliation" segment.)
But if Congress is going to keep Canada and Mexico from penalizing American goods, legislators will need to act fast.
According to Wooddall, the two countries could hit U.S. products with retaliatory tariffs in as soon as 10 days.
"Expect the first day of retaliation to be within (December 17 to 18)," said Wooddall.  "This is not a Christmas present we want in our industry. It's not a Christmas present we want (due to its) overall impact on the U.S. economy. It's not something we want to impact the overall relationship we have between Canada, the U.S., and Mexico."