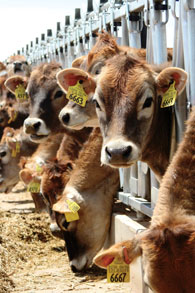 Dairy producer and calf raiser should first agree what a quality heifer looks like.
Would you send your child to a day-care center without first visiting the location and talking with the staff?

Of course not, and neither should you trust your herd replacements with a stranger, says Lewis B. Anderson, Jr., national sales manager and calf management consultant for Calf-Tel, based in Germantown, Wis.

"As dairies expand, more producers are looking to custom growers to raise their herd replacements," Anderson says. "By asking the right questions as a producer or as a custom grower, strong and lasting relationships develop, with a favorable outcome for all involved."

Whether you're a dairy producer sending your calves off-site to be raised or a custom grower accepting calves for rearing, the expectations of both parties must be clear. "The gray areas lead to misunderstanding," Anderson says.

Don't enter into a calf-raising relationship without first learning some important facts:
Be clear about your objectives for herd replacements. Why do you want your calves custom-raised? Why does the calf grower want to work with you?
Start with visiting the site. Check to see whether it's clean and has an organized traffic flow. As a producer, is it the kind of place you want your herd replacements to stay? As a custom grower, is the dairy the kind of operation that can deliver healthy calves? Don't rely on others to make your determination.
Understand the operation's organizational hierarchy. Know who has authority to make health-care decisions about your calves and who the contact person is.
Learn about the facility's protocols. Take a close look at a dairy's maternity area. A crowded pen isn't optimal and may indicate below-par conditions. Is feeding, cleaning, manpower, even bedding up to your standards? Is the death rate high or low? Are good records kept? Is it easy to find out about vaccinations and treatments?

"If I'm a custom raiser, I'm going to look at when, where and how colostrum feeding is done on your dairy," says Anderson. "I hope I'm going to see a calf is being fed 1 gal. of good quality colostrum at 101°F within one to two hours of birth."

Something as basic as knowing cows are cleaned before milking can be instrumental in calf health, he adds. Walking through a dairy can tell a calf raiser what kind of calves he or she is likely to get. 
Check calf housing. Is it clean, accessible, comfortable and suited to the weather?
Be aware of transportation routines. Know how often calves are to be picked up. Is it at a consistent time? Establish the best time in advance. Likewise, establish a date for the animals' return.
Specify how you would expect a disease outbreak at the dairy to be minimized and controlled.
Put everything in writing. Have a written contract with everyone you do business with—whether it's your brother, friend or professional.
Bonus content: