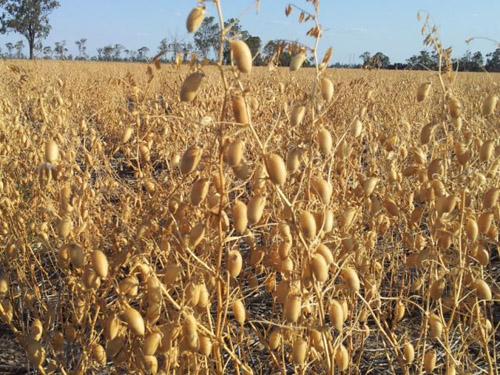 Deep inside the General Mills Inc. research lab in Golden Valley, Minnesota, food technician Faith Perry mixes up the company's new Larabar with a special ingredient that's several thousand years old.
Tins arranged along one wall of the lab contain every ingredient you could squeeze in a snack, from rolled oats to marshmallows. The one that gives the Larabar a new moniker -- the ALT, for alternative protein -- is the yellow pea powder that Perry adds to a mound of nuts, dates and brown rice syrup. It's a recipe that took two years to concoct.
"We went through a lot of prototypes," says Perry, flattening the mixture into a metal pan. "It was challenging to keep it simple. We used peas because they're non-allergenic and have a low impact on flavor."
Perry's discovery doesn't yet rival the company's invention of the "puffing gun" in the 1930s, which inflated cereal pieces and gave birth to Cheerios. But after years of peddling sugar, salt and fat, companies in the $1 trillion food industry are on a protein binge to capture the health-conscious consumers whose distaste for conventional packaged foods has resulted in anemic growth for household staples like Kellogg's cereals and Campbell's soups.
It's part of the reordering of the world's food supply, thanks to shifting consumer tastes, Chinese demand and global warming. There's more corn in Canada, vineyards in Scotland -- and a shortage of peas in North America.
'New Black'
Because General Mills was early to recognize the potential of plant protein, the Betty Crocker owner has stocked up from suppliers like Canada's Alliance Grain Traders Inc., creating a shortage that's left rivals rushing to catch up. How hot is this trend? Enough to attract investment from billionaires Bill Gates, Li Ka-Shing and Tom Steyer.
"Americans are gobbling up protein like it's their last days," said Kantha Shelke, principal at food science researcher Corvus Blue in Chicago. "Protein is the new black."
Enter pulses, a branch of the legume family that includes dried peas, beans, chickpeas and lentils and brings a health- food halo via protein without the fat and cholesterol associated with animal products. Traditionally sold only in the health-food aisle, they have found their way into Newman's Own pretzels, Barilla pasta, Post cereal, even Triscuit crackers.
Fashionably Scarce
Pulses come in a range of colors and sizes and can be eaten whole, ground into flours or separated into concentrated forms of their three main components: protein, fiber and starch. They have more protein and fiber than wheat or rice, and provide B vitamins, iron and zinc. They can help lower cholesterol and blood pressure. And they return nitrogen to the soil, reduce fertilizer use, and require a fraction of the land and water of animal proteins.
Like any fashionable item, pulses are in short supply. Today, only a handful of companies worldwide have the facilities and technology needed to process large quantities of pea protein concentrates and flours. Last year, supplies grew so tight that prices soared and orders simply could not be filled, according to industry consultant Henk Hoogenkamp, who has worked with proteins for the past 40 years.
"Ten years ago nobody was talking about pulses," said Gordon Bacon, chief executive officer of Pulse Canada, an industry association that represents growers and processors from the world's biggest pulse-exporting country. "The market now is very hot. We are introducing food companies to a new ingredient that's as old as time."
Gas Issue
Pulses aren't perfect -- the dense proteins can harden the texture of foods, as the General Mills researchers discovered with the Larabar ALT, whose shelf life is about two months shorter than regular Larabars. And digesting pulses is not always easy, leading to discomfort and flatulence in some cases.
"Some people have a bunch of bacteria just waiting to digest this in ways that are not pleasant," said Peter Jones, director of the Richardson Centre for Functional Foods and Nutraceuticals at the University of Manitoba in Winnipeg. "But you do improve your tolerance over time."
Ultimately though, what swayed the General Mills scientists who screened half a dozen alternatives to soy and dairy before settling on yellow peas was what pulses don't bring to the table: no allergens nor genetically modified organisms.
Quinoa Bar-itos
The Larabars target the growing number of consumers who avoid gluten and dairy, in particular the three out of four adults who seek to add more protein to their diet but don't want more artery-clogging red meat. In doing so, they have spurred the rise of what's called the "free-from" food sector, which totaled $9.6 billion last year and will increase to $12.4 billion by 2018, according to Euromonitor. General Mills already caters to this crowd, having introduced GMO-free Cheerios in January.
"Before, the only people who cared about things like gluten were the freaks on the periphery," said Heather Jones, an analyst BB&T Capital Markets. "Mainstream people are paying a lot more attention to this now."
Signs of that abound. Billionaires Gates, Li and Steyer are supporting Hampton Creek, a San Francisco startup using yellow pea proteins rather than eggs to make mayonnaise that's sold in Whole Foods, Safeway and some Costco stores. Protein Bar, a Chicago fast-casual restaurant chain serving organic quinoa "bar-itos," just got an investment from Catterton Partners, the private equity firm that backed Kettle Foods and Caribou Coffee. And cereal company Post Holdings Inc. this month agreed to buy Michael Foods Inc. for $2.45 billion to become a serious player in protein.
Year of Pulses
"Protein has a huge upside," said John Anthony, a partner at White Road Investments, a California venture-capital shop created by the founders of Clif Bar & Co. that invests in emerging food trends. "Within that category, plant-based proteins are expanding exponentially."
Now that the United Nations has proclaimed 2016 as the "International Year of Pulses," there may even be a global marketing blitz of sorts, similar to what quinoa enjoyed when it received the same designation last year.
General Mills says it has enough pea protein to meet its needs -- being among the first big buyers helped -- though that has left others in the lurch. Roquette, a French company that makes pea-based ingredients, is doubling its production capacity and working with farmers outside Paris to increase their yields. Chinese suppliers are also filling the gap, but North American food companies are reluctant to buy from them due to food safety concerns, according to Hoogenkamp.
Pumpkin Pie
At General Mills, what started as an effort to produce a new generation of Larabars has sparked interest across the company, research scientist Eric Hedstrand said. Sales of the ALT, whose flavors include pumpkin pie and lemon pound cake, have exceeded targets since its introduction last May. In January, the company's Cascadian Farm brand introduced its own pea protein bar. Pulse-based cereals could be next, although General Mills won't disclose what exactly is in the pipeline.
The Minneapolis-based company isn't alone. Across the industry, there's an effort to develop products that feel healthier -- with ingredients such as pulses, hemp, quinoa or chia seeds -- and to pare back old recipes. Unilever in September added butter to its Rama margarine spread in Germany to revive sagging sales.
The new products also have to taste good. As Campbell Soup Co. famously learned when it removed too much salt from its soups too quickly, customers who say they want healthier food also need it to be appetizing.
Taste Focus
Murad Al-Katib's Alliance Grain Traders aims to help fill that gap. Seeing the opportunity in pea proteins, he has moved from shipping bulk quantities of pulses from the plains of Canada to India, China and the Middle East to selling more profitable ingredients like pea and lentil flours to food and agribusiness giants like PepsiCo Inc. and Cargill Inc. In the new line of work, he's doing much of the same research as Perry at General Mills -- figuring out how to get people to eat their pulses.
"We can clean up the labels of a whole bunch of products," said Al-Katib, the company's founder and CEO. "But our customers will not replace ingredients just for health. They need taste."
Turkish Delights
Al-Katib, the son of Turkish immigrants who settled in Davidson, a farming town in central Saskatchewan, has been extending tests to a broad array of products. Al-Katib displayed a knack for business at an early age, selling bubble gum that he brought back from Turkey to his Canadian classmates for a few pennies of profit per piece. Some 30 years later, he's peddling a product that can be traced back to the Stone Age as one way to help the food industry walk a tightrope between the natural and the industrial.
Last year, he built a $35 million pulse-ingredient processing plant in North Dakota, and spent another million on a food-development center packed with food-testing machines (one can actually mimic human chewing) in an office park on the south side of Saskatoon. The factory is meant to manage the supply while the R&D center kindles the demand.
Neatly arranged around a large table on the morning of March 17 were bread, pasta, snacks, pound cake and a few marble- sized meatballs. Some were made in the usual fashion while others contained a substitute -– Al-Katib's PulsePlus V-6000 pea flour.
Dry Meatball
The reformulated pasta tasted like the real thing, only it's gluten-free, and packs more protein and dietary fiber. The bread and pound cake passed muster, too, and can be made more cheaply with peas than with wheat or eggs. But the meatball, with 16 percent less meat and no breadcrumbs, was dry, with a slightly odd aftertaste.
"There are some mouthfeel issues," Mehmet Tulbek, the company's R&D chief, acknowledged, referring to the all- important sensation a food delivers on the tongue. "But it has potential."
That potential has brought food giants like Nestle SA and PepsiCo's Frito-Lay snacks unit to Al-Katib's doorstep. He's now busy expanding his North Dakota ingredient plant and planning similar sites in Canada, Turkey, and even China. Investors like the plan: AGT's shares have gained more than twice as much as the Standard & Poor's/TSX Composite Index in the past year.
"The long-term outlook for global pulse demand is compelling," said Raymond James analyst Steve Hansen.
Chicken Nugget
What that demand could lead to on supermarket shelves is now taking shape. Canadian researchers last year substituted yellow pea flour for wheat flour in the batter of a chicken nugget, a symbol of unhealthy fare. The high levels of amylose starch in the peas made the new nuggets crisper, while the peas' color lent them a more golden hue. They even had savory notes that could reduce the salt required, the study found.
The enhanced flavor "really surprised us," said Janice Meseyton, who helped conduct the study. Next up, she might examine the antioxidant levels of pea flours, which could create a new selling point for the likes of General Mills.
At the Minnesota lab, Faith Perry cuts the Larabar ALT mixture into bars for her colleagues as they discuss the potential of pulses. Outside, a handful of turkeys roam freely in front of the research center, carrying the quiet confidence that comes, perhaps, with the knowledge that no one inside the building has any interest in them.