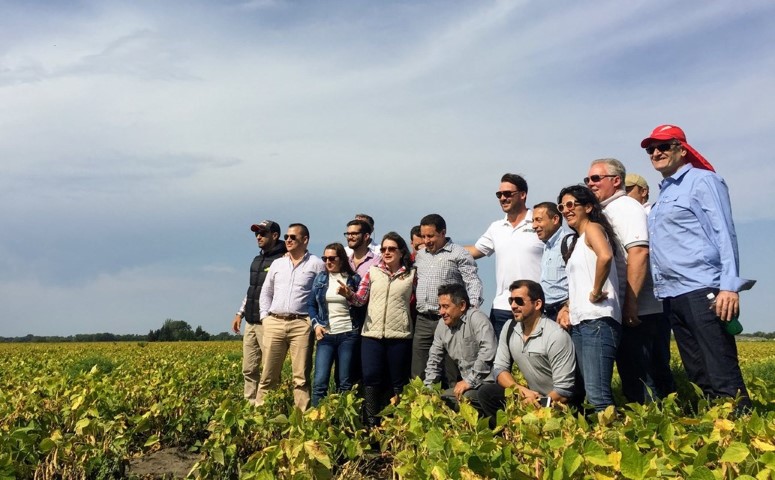 Chris Adams breaks bread with his buyers. In a farewell to convention and the middleman, Adams is delivering crops straight from his farmland to the doorsteps of foreign customers.
Welcome to direct marketing on steroids. Adams, 30, is transforming his North Dakota farming operation with an export business built on trust and boots-on-the-ground trade missions. When he packs crops into containers and slams the locks in place, the loads are sealed until buyer hands open the doors in South America. Old school is new school because Adams offers a face and handshake with every sale.
Adams Family Farm is a 9,000-acre operation 60 miles south of the Canadian border in Grand Forks. Sugarbeets, hard red spring wheat, hemp, soybeans, and six varieties of edible beans make up a diverse crop roster.
In 2014, Adams was a wide-eyed 27 in the midst of generational change, farming alongside his father, Steve, and preparing for a day when he'd steer the ship solo. "My dad built this farm into a little empire since he was 19 and I didn't want to just take the reins, but I wanted to add to the operation and keep building. I started looking to try something different."
Jumping headfirst
Adams grows cranberry beans and in 2014, had 30% to 50% of U.S. production sitting on his farm. Searching for the best market channel, Adams attended The Agriculture Program for Executive Producers (TEPAP) and developed a fortuitous friendship with Roger Gussiaas, owner of Healthy Oilseeds LLC in Carrington, N.D. Gussiaas, 56, exports specialty oilseed products (borage, flax, hemp and more) to 20 foreign countries. "I was really intrigued by Roger's exports. He was a mentor and helped me learn the possibilities," Adams says.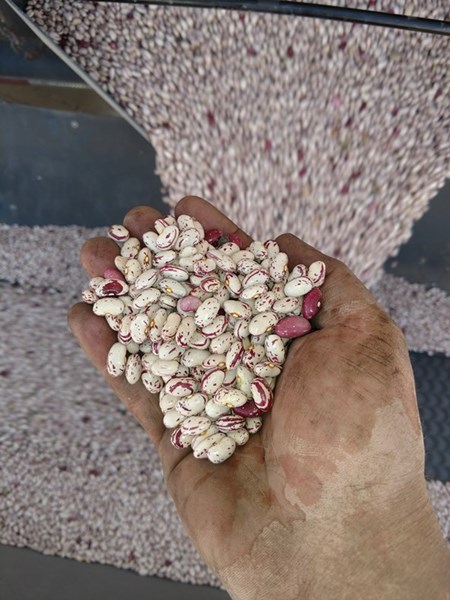 "Chris was trying to move a hard-to-market bean and I said, "Why not look at exporting?'" Gussiaas recalls. "He's not afraid of risk and is just a step ahead of some producers."
Finger on the pulse, Adams knew the North Dakota Trade Office (NDTO) was organizing a trip to Colombia, and he moved with lightning speed to book a spot. "I was nervous and had no clue what I was doing, but I jumped in headfirst," he explains.
Lindsey Warner, director of Marketing & Events for the NDTO, says Adams was ready to do things right: "His operation wasn't initially set up for targeting international customers via the website and brochure marketing materials, but he was determined to export. We gave him some steps to follow and he quickly completed each one. He's got a unique, super-friendly personality and is very adaptable."
Trial by fire
On his first trade trip, Adams made multiple edible bean sales, meeting over 40 buyers in Bogota and Medellin. The Colombia meetings were the first in a chain that propelled Adams to long-term personal and commercial relationships: "I was 27 and a little fearful, but I didn't care because I wanted to learn."
"It's a two-way street. Foreign buyers want a face to trust. They want to know you and your company and your family," he adds. "Trade missions are invaluable to international agriculture business."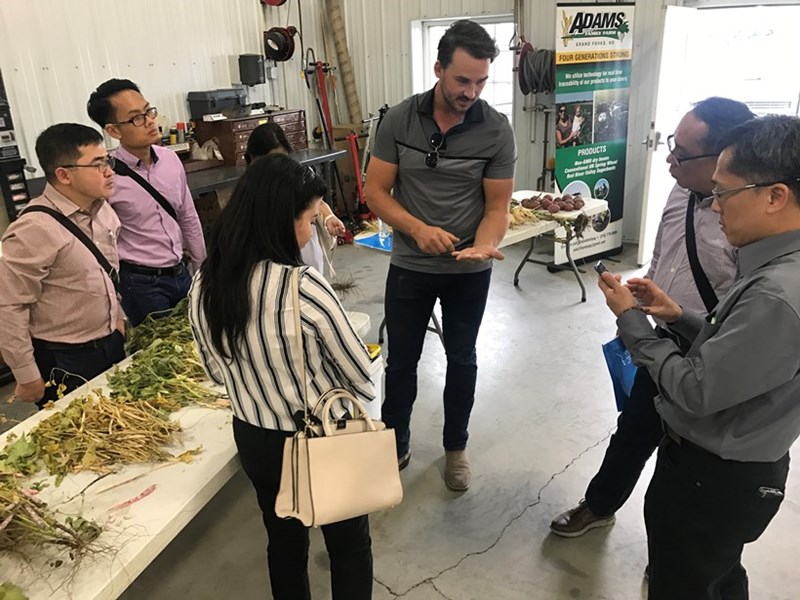 Adams has brought the personal relationship business back to Grand Forks, hosting reverse trade missions and delegations at his operation. Potential customers walk across his soil, handle the edible bean crops and get a front-row seat from processing to loading. "I've worked with Chris on both outbound and reverse trade missions. When he hosts, he's entirely unique. He shows potential customers that his team is the only one that touches the product," Warner emphasizes.
"If U.S. farmers are interested in exporting, they can look to Chris as a fine example," she adds.
"I admire and respect a guy like Chris who wants to take his farm to another step and market close to the consumer," Gussiaas echoes. "He's atypical and willing to look at new markets or new crops."
Initially, Adams organized the freight on international orders and paid a custom processor to bag beans and load containers. This past spring, he bought a processing plant and has both hands on the beans until the container doors swing shut.
Adams doesn't minimize the challenges of foreign market: "Face-to-face takes time and travel, and I have to make sure I keep a balance with my family and farm at home. Exporting requires risk as far as payment methods and product vulnerability until it's at the customer's door. Then again, risk is present in every aspect of farming."
Gussiaas' buyers are spread across the globe, but he says many U.S. growers would be surprised by the security of foreign payment methods: "Frankly, I'm completely comfortable collecting money from overseas because there are some very dependable methods of payment. Certainly there is risk, but that applies to foreign or domestic buyers."
Will Adams export any crops beyond edible beans? Generally, soybeans and wheat are traded in volumes that keep players like Adams off the floor. However, Adams has traveled to the Philippines several times and sees a possible export seam for wheat: "They buy almost 100% North Dakota spring wheat for their mills. If I can develop a good relationship with a Philippine buyer, I could ship over a couple hundred metric tons of wheat. I'm very willing, but just haven't got to that stage yet."
Cannabis next?
Always looking for new opportunity, Adams grew hemp in 2017 for the first time and his 300 acres represented approximately 10% of North Dakota's entire hemp production. His hemp for seed averaged close to 1,800 lb. per acre, vastly superior to typical yields of 800-1,000 lb. per acre in Canada. Hemp remains classified as a Schedule 1 drug in the U.S., and marketing options are limited. Adams' hemp seed goes to Canada where it's processed into oil and shipped back to the U.S.
Adams hopes to begin marijuana production in 2018 and he's closely watching regulatory developments unfold at the state level. Initially, North Dakota will allow two growers and eight dispensaries. (Adams has turned in a letter of intent and next will begin the process of official application.)
Time never waits
Whether export expansion, custom cleaning, hemp or marijuana, Adams intends to wade directly into the market. Adept at dealing with risk, Adams stares a farming certainty in the face: More change is coming to his operation and he'll stand alone when Steve steps entirely aside. Since Adams was a tiny child, he's followed the giant strides of his father through their fields of Red River Valley soil. Adams walked away from a career in dentistry for a life in farming: It was painful to wake in time for 8 a.m. classes, but so easy to jump up at 5:30 a.m. to farm.
"My dad has done a phenomenal job and I won't disappoint him," Adams says. "I'm driven every day by the lessons he has taught me. Sure, I do things differently and I'm from a different era, but this is in my blood."
Adams is still learning the ropes in more foreign countries, ready to connect with a waiting customer-base that can't always grow its own food. "I was a little intimidated at the get-go, but now I love to go and meet buyers in other countries. I'm always amazed to see what's sitting in the warehouses of my customers—bags of beans straight off of my farm."