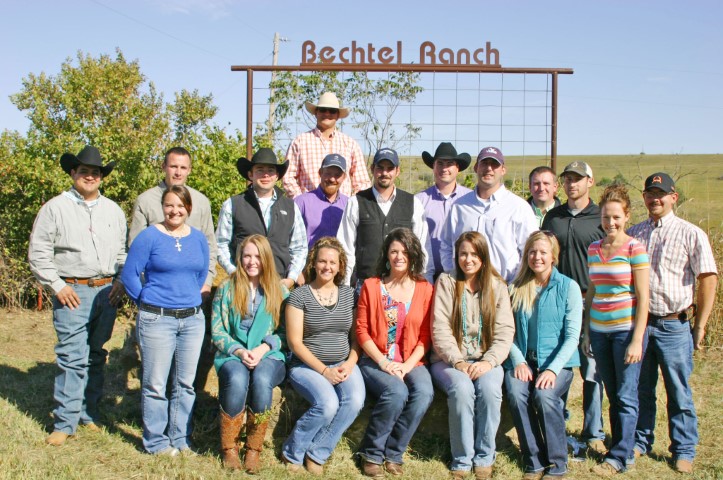 The third installment of the Kansas Livestock Association (KLA) Young Stockmen's Academy (YSA) was held October 6-8. The group of 20 young producers spent three days touring various segments of the beef and dairy industries in southern and western Kansas. Merck Animal Health is the exclusive sponsor of the YSA program.
The first stop on the tour was at Bechtel Ranch near Eureka. Veterinarian and ranch owner Roger Bechtel discussed his cow-calf and stocker operation and conducted a Beef Quality Assurance injection site demonstration for the class. Stops also were made at McCurry Angus Ranch near Burrton and CB Farms of Preston. John McCurry told the group the focus of the Angus seedstock operation is to raise high-quality bulls that meet the needs of their commercial cow-calf customers. All McCurry bulls are DNA-tested, which can provide as much information on a young bull as if he had recorded more than 20 progeny records. Berry and Carla Bortz, owners of CB Farms, gave an inside look into their operation, which consists of a commercial cow-calf herd, registered Angus seedstock operation, feedyard and farming business. The Bortzes finish all their own calves, along with some purchased from bull customers and market each through U.S. Premium Beef. One of their primary goals is to increase the number of Certified Angus Beef and Prime carcasses produced each year.   
During a tour of the milking parlor at Royal Farms Dairy near Garden City, manager Kyle Averhoff told the YSA class the dairy milks about 6,500 cows twice daily and markets more than 13 million pounds of milk per month. Jeff George, manager of Finney County Feeders of Garden City, highlighted various aspects of the feedyard, including a newly built mill, which is used to customize feed rations for each pen of cattle. The group also toured the Cargill packing plant in Dodge City.
The 2014 class includes Bryan Armendariz, Chapman; Sarah Bryant, Winfield; Cody Campfield, St. John; Isaac Carr, Junction City; Neil Cates, Beloit; Kyla Clawson, Satanta; Rachel Collinge, Eureka; Jaymelynn Farney, Parsons; Andrew Froetschner, Larned; Ryan Gasche, Cassoday; Robby Haynes, Abilene; Lindsey Huseman, Ellsworth; Brandy Jones, Wamego; Spencer Jones, Wamego; Ty Josefiak, Rozel; Marisa Kleysteuber, Garden City; Evan Lesser, Palco, Laura Mushrush, Strong City; Jake Pannbacker, Washington; and Chase Thompson, Scott City.
The fourth YSA session will be held during the KLA Convention, December 3-5. YSA members will have the opportunity to attend educational sessions and help form policy during council and committee meetings that will guide the association in 2015.

KLA is a trade organization representing the business interests of members at both the state and federal levels. Voluntary dues dollars paid by producers are used for programs that benefit KLA members in the areas of legislative representation, regulatory assistance, legal troubleshooting, communications and the advancement of youth.

Source: Kansas Livestock Association