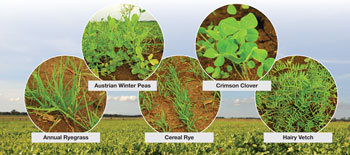 It takes time and practice to improve soil health with cover crops
Cover crops are more than agriculture's latest buzzword. "Many farmers are considering cover crops because they want to be good stewards of natural resources and improve soil health," says Farm Journal Field Agronomist Ken Ferrie. "From the business aspect, cover crops are going to remain a part of government programs. To qualify for EQIP cost-share funds to build a waterway, for example, you might need to plant a cover crop."

Environmentally conscious landowners might look for farmers familiar with cover crops. "Having cover crop experience on your resume could open a door to rent a farm," Ferrie says. "Knowing your cost and return from cover crops can help you decide how much to bid for a farm if the landlord wants cover crops."

In addition to the sustainability benefits, farmers are realizing yield and financial returns, adds Dan Towery, crop consultant, Ag Conservation Solutions, West Lafayette, Ind. "The farmers who mind the details and timing are pulling ahead of the pack," he says. "They don't let weather get in the way—they manage around it."

It might take many years to make big changes in soil health, but in some situations, you might see improvement soon. In a one-year study, Ferrie saw how an annual ryegrass cover crop improved carbon content, bulk density and water infiltration.

"As with any new practice, you'll be eager to determine whether cover crops are having an impact," Ferrie says. "Your soil physical provides a benchmark so you can follow up later and see if soil health is improving."

Another way to evaluate the effects of cover crops is to plant replicated plots, Towery adds. Splitting a field in half is better than nothing, but it's hard to get an accurate evaluation without replicated strips.

"The good news is, soil will improve every year you grow a cover crop," Towery adds. "How soon you see measurable yield improvement depends on field history and what limiting factors, such as weather, are present in a year. For example, soils that are low in organic matter will benefit faster from cover crops."

Now is as good as time as any, Ferrie says, to gain experience with cover crops. If it's your first attempt, start with oats or an oats and radish mixture because they are easy to manage (especially since they winterkill in northern areas). After a trial run, selecta cover crop mix to target your specific objectives.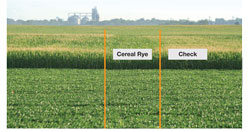 This photo, from the Farm Journal Test Plots, shows the allelopathic effect of a cereal rye cover crop on corn. There was no effect on soybeans. The allelopathic effect might be mitigated by killing the cover crop earlier in the spring. Allelopathy and kill date are two of the factors to consider as you decide which cover crop to plant.
For example, you might select annual ryegrass or cereal rye to scavenge leftover nitrogen, suppress weeds and graze livestock. Legumes such as hairy vetch and clovers can produce nitrogen for your next corn crop. To improve soil bulk density, which reduces crusting and improves water infiltration, plant daikon (Tillage) radishes or deep-rooted annual ryegrass or cereal rye. 

"You should use covers to address your resource concerns," advises Gabe Brown, crop and livestock producer, Bismarck, N.D. For the past two decades, he's used cover crops to increase diversity, build organic matter, and improve water infiltration and the water-holding capacity of his soils. 

"We look at each field separately and determine what the resource concern of each field is," he says.

Choosing a cover crop with little forethought can create problems. "Cover crops take more management, not less," says Mike Plumer, farmer and consultant with Conservation Agriculture near Creal Springs, Ill.
"Farmers have to learn how cover crops react on their own fields." 

His advice is to try cover crops on a 20- to 30-acre field before incorporating on the entire farm. 
Let your cover crop goals guide you through the selection process. Think of your cover crop as part of your production system. Your location, cash crop, planting and harvest dates, and drainage situation all 
affect your cover crop options. Also factor in the planting windows to establish your desired cover crop. 

Even after you've read everything possible and talked to experts and fellow farmers, you'll have to roll with the punches to work around the weather and production conditions, Towery notes. For example, if you're having wet weather in early September, you might need to adapt and go to aerial seeding instead of planting after harvest. 

"One Illinois grower planned to fly a cover crop of annual ryegrass and radishes into standing corn between Oct. 1 and Oct. 15," Ferrie says. "But his seed provider advised not planting until he reached 70% light penetration on the ground. Because planting was late, it was early November before that happened. Only one cover crop fit the planting window—cereal rye."

Planting too late is the most common mistake by beginning cover crop farmers. "A lot of folks don't want to aerial or highboy seed," Plumer says. "They'd rather drill or broadcast after harvest, but it's often too late. The crops might come up, but they don't have enough time to establish before winter and will winterkill."

Consider the equipment needs of raising a cover crop, Ferrie adds. "For planting, you might need coulters, row cleaners and other attachments. They must be set properly for each situation you plant into," he says. 

Sprayers with 6' of clearance at the frame are becoming more popular to use to seed cover crops, Towery adds. 

The time of year when you plant your cover crop determines whether you need a warm- or cool-season crop. "After wheat, for example, a warm-season cocktail mix will add diversity, fix nitrogen and put your soil biology on steroids," Towery says.
Cover crop mixtures allow you to meet several goals simultaneously. "Mixtures add more diversity, grow at different times, better compete with weeds and optimize nutrient cycling," says Dwayne Beck, manager of South Dakota State University's Dakota Lakes Research Farm. 

Rarely will a monoculture cover outperform a mixture, Beck says. "The mixture does not have to be 12 species, it just needs to be enough crops to allow them to complement each other and to extend the time period they are active," he says.

New results from the Farm Journal Test Plots reveal other factors to keep in mind as you choose a cover crop. 

"Some plants affect the growth, survival and reproduction of other plant species," Ferrie says. "Allelopathy can be positive if the cover crop controls weeds. But it can be negative if it affects the following cash crop." 

Cover crops might require sharpening your nitrogen management. "The higher the carbon/nitrogen ratio of the cover, the more important it is to use starter to overcome the carbon penalty when planting corn," Ferrie says.  

For example, cereal rye is generally terminated when it reaches 6" to 12" tall to minimize the carbon penalty, Towery adds.

Viewing cover crops as part of a crop production system will help you identify other considerations. "Think about your cover crop's effect on insects, diseases and nematodes," Ferrie advises. "The answer might be influenced by the date you terminate the cover crop in the spring. Our data shows if you let a cover crop get taller, there might be more insect pressure in the following cash crop." 

How and when to terminate your cover crop should be one of your first considerations. If you fail to kill a 
cover on time in a dry spring, there might not be enough moisture to germinate your cash crop.

"Cover crops are terminated most commonly with herbicides in no-till systems or tillage," says Bill Curran, Penn State University weed specialist. "Some farmers choose cover crops that will winterkill so they don't have to deal with them in the spring." 

Plan your herbicide needs, he adds. "The biggest mistake farmers make relative to chemical weed control is spraying at the wrong time or not using the correct herbicide or mixture."

Also, know how your cash crop's herbicide program could affect your covers. "As we get more resistant weeds, a lot of agronomists are recommending high rates and late applications of herbicides," Curran says. The residual herbicide left in the soil can kill newly seeded cover crops or weaken the cover crops so they don't grow well or overwinter.

It's a lot to think about—much like choosing the best cash crop variety. But it will be worth the effort if you can improve soil health, provide nitrogen, suppress weeds, boost yields or even rent a new farm.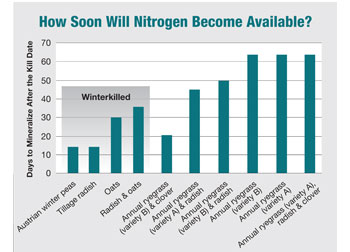 If your goal is to recycle nutrients, you need to understand how long it takes for the nutrients in cover crop residue to be mineralized, or released for crops. You might need to apply supplemental nitrogen early or late in the growing season, depending on when mineralization occurs.

For more details on achieving your goals with cover crops and additional management tips, visit www.FarmJournal.com/cover_crops
---
What It Means to Me
Cover crops take more management, not less. 
Every cover crop should be selected and planted with specific goals and objectives in mind. 
For your first attempt at planting a cover crop, choose one that's easy to manage and start with a few acres.
Don't expect to see benefits the first year, but they could be there. It usually takes three years to see definite results from cover crops.
---
The Cost of Recycled Nitrogen
Each cover crop has its own set of costs and returns. In an experiment studying annual ryegrass, Farm Journal Field Agronomist Ken Ferrie recorded the per-acre costs and return for a cover crop that scavenged leftover nitrogen and held it for the following cash crop:

After subtracting the value of the nitrogen saved, the total cost of the cover crop was $5.75 per acre. In addition to scavenging nitrogen and returning it for the cash crop (about 50 lb. of the 75 lb. will be available the first year), the cover also improved soil structure, increased organic matter, increased water infiltration, controlled erosion and recycled additional nutrients. "If you are in a corn/soybean rotation and you want to recycle nutrients from one corn crop to the next, you will need to plant a second cover crop after soybeans to move the nutrients forward to the second corn crop," Ferrie notes.
---
Farmers Who Cover Up
Based on the USDA 2012 Census of Agriculture, more than 133,000 farmers plant cover crops on almost 
10.3 million acres. These three farmers share their experiences growing cover crops: 
Cover crops provide Weisman Farms the ability to slow down, and potentially stop, the erosion process. "We have bottom ground, where the rivergets out each year, and hill ground, where water runs to certain washes," says Craig Weisman. "Cover crops hold the soil in place in these areas."
Weisman recommends setting concrete plans and goals before investing in cover crops, which includes aligning the cover crop with the following cash crop. "I wouldn't just throw a cover crop out in the field," he says. "It's important to ask a lot of questions and gather background on anything you want to put in the field. Otherwise, you could have a big flop."
"My advice is don't stir the soil, keep something growing at all times and get involved in your watershed," says Steve Berger. While no-till is a great start, he says more has to be done to improve soils.
 Cover crops are an essential tool to creating a healthy soil environment, promoting microbial activity and helping improve soil structure. Healthy soils and the nutrient mineralization feed plants to produce excellent crops.
 "Using cover crops is a natural approach to farming that takes patience but will reward producers with high yield potential and keep nutri-ents where they belong—on the farm and out of our watersheds," Berger says.
To combat soil health issues, Gabe Brown, who farms and ranches near Bismarck, N.D., has been growing cover crops for the past 20 years. 
"All of our 2,000 acres, has a cover crop growing on it either before the cash crop, along with the cash crop or following the cash crop," he says. "Our goal is to have a living root in the soil as long as possible."

In addition to increasing soil organic matter and water infiltration, Brown uses covers to provide feed for 350 cow-calf pairs and 400 stockers. "Livestock is the means by which we convert cover crops to dollars," he says. "Cover crops are a no-brainer, but if you have livestock, you can capitalize on them even further."
---
There Is A Time and Place for Cover Crops