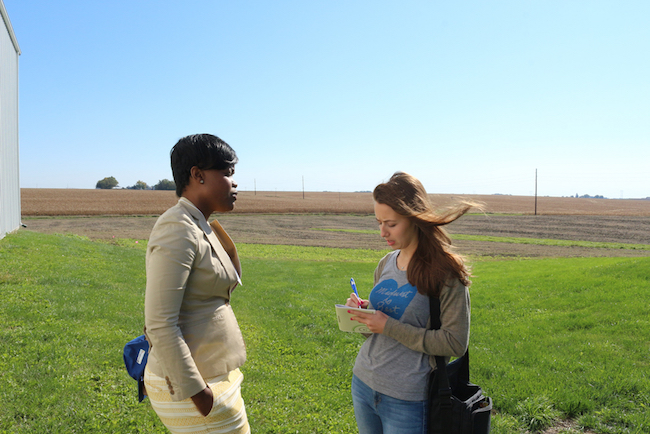 By Maria Kalaitzandonakes
DES MOINES, Iowa — The banks refused to loan Ruramiso Mashumba money to buy a tractor. They shook their heads at her:  young, farming, single and female. It all spelled risk.
"Women farmers don't have access to the same opportunities that male farmers do," she said. "For example, we are less likely to get a loan because the bankers think female farmers will get married and then leave the farm."
Mashumba has a degree in agricultural business management and inherited a 117 hectare farm in Marondera, Zimbabwe. Still, at the bank she was woefully underestimated.
But when Mashumba is faced with a problem, she doesn't give up.
She spoke at the 2015 AGCO Africa Summit in Berlin, Germany, about need for mechanization to help small scale farmers grow and become commercial farmers. According to the summit's mission,  they have a strong focus on private-sector driven agricultural growth and hope to promote the idea of agriculture in Africa as a business and not a "development agenda."
"When I was there, they asked me about my five year plan," Mashumba said. "I told them my vision about acquiring machinery, commercializing and building community farms."
Before she left she signed some agreements with AGCO and she returned to her farm with the promise of three pieces of machinery – a tractor, a ripper and a plow. Last September she unleashed the shiny, red equipment on her farm.
Since then she's opened her farm up for training sessions for female farmers in the area.
"I try and show them the difference that a few pieces of small machinery can make, both in efficiency and quality of life," Mashumba said.
Most of the female farm laborers in Zimbambwe are using hand hoes, or mbadza, to prepare the land. It's backbreaking work, Mashumba said.
"In Zimbabwe we haven't embraced the technology fast enough, so we are doing things by hand that technology should be doing. We are doing painful, difficult hand-planting and then asking why the youth don't want to be involved in agriculture."
Machinery, though, is beyond most farmers' reach if they need to foot the bill alone. Mashumba is an advocate for community farms, so farmers can combine their purchasing power. Her next endevor is building a community farm. These exist in Zimbabwe, she said, but are small and usually only include shared irrigation schemes.
Her vision is to build up the purchasing power and stability of farming areas by binding them together through trust and community. When farmers work together inputs can be bought in bulk, thus reducing the price; outputs can be sold together, thus increasing the negotiation power and price; and infrastructure can be built and maintained.
"I'm really passionate about seeing community farms develop all over the districts, so we can stop saying that we cannot afford a silo or irrigation or this or that," Mashumba said."With community farms you can do that."
In just a few short months the rainy season will come to Mashumba's farm and she will begin planting. She is working in conjunction with three soon-to-be-selected female farmers to begin the dream community farm.
"I'm hoping to build trust by starting small, and then people believe by seeing," she said. "Then we can grow and set an example for our community where people can see the growth and lives can be transformed."
Until now Mashumba has grown sugar snap peas for export, local brown rice varieties, sorghum, maize and millet. She also grows gum trees and breeds cattle. It took approximately 20 women per hectare to harvest the peas without mechanization.
In the coming year Mashumba is looking to grow beans for export to the Netherlands with her three community farm partners.
When Mashumba began farming,  the banks and even her neighbors had doubts.
"They didn't think I was serious," she said. "They said, 'This is too hard for a woman' and "Why bother yourself?' But now, people have seen that I have given it my all, and that I am committed. They've seen me labor in the farm, and the way I've endured and that I have determination to succeed."
This story is published in collaboration with the University of Missouri. Read more about their reporting project at the World Food Prize here.