Published on:
12:59PM Jun 23, 2008
Tanner Ehmke

This week I'll be on a "working vacation" - helping out with wheat harvest on my family's farm in Lane County, Kan. I'll be reporting on AgWeb what's going on in the area and what word gets passed along as harvest migrates northward.
Our harvest crew arrived Sunday morning and will begin cutting on our farm this afternoon. From the sounds of it, this is the best wheat they've seen so far...which isn't saying much. I talked with a couple of the guys on the crew, and they say that in Texas, yields were averaging around 20-25 bushels per acre, which is slightly below normal for that area. In Oklahoma, they didn't even make it into the fields. Heavy rains flooded fields and decimated the crops they were scheduled to cut.
And if you speak with other farmers in our area of western Kansas, you're left with the impression that everyone here has seen better years. Other than the high price of wheat, there's not much good news to report. I heard the same comments over and over: hail damage and the wheat streak mosaic virus is widespread. One neigher told me they won't even have a harvest this year - they suffered a 100% loss from a recent hail storm. Their fields looked like someone took a lawnmower to them. But the main problem is mosaic. Almost everyone's got it. The upside is that we don't have the head scab that everyone's talking about.
Here's a picture of my brother Layton in a field heavily damaged from wheat streak mosaic. Notice how small and thin the stand is. Yield loss in affected areas was estimated at 30% or more.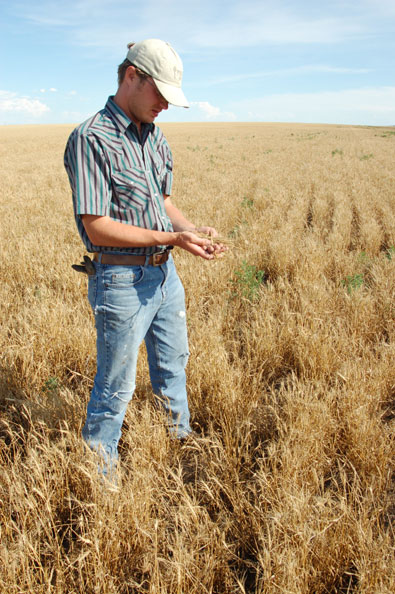 Taking a closer look, the straw is thin and weak here.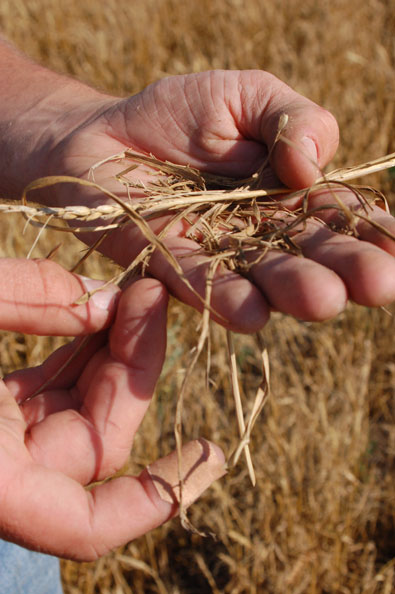 Here's Layton standing in a much healthier stand of wheat where wheat streak mosaic was not prevelent.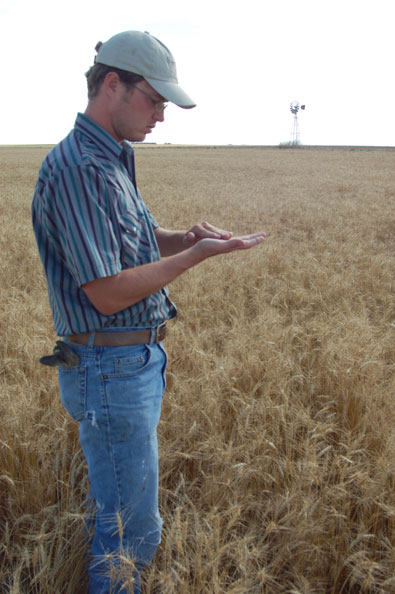 This field was heavily damaged from hail but will still be harvestable. Notice how the straw is snapped and folded over.Yield loss on this field was also estimated at around 30%.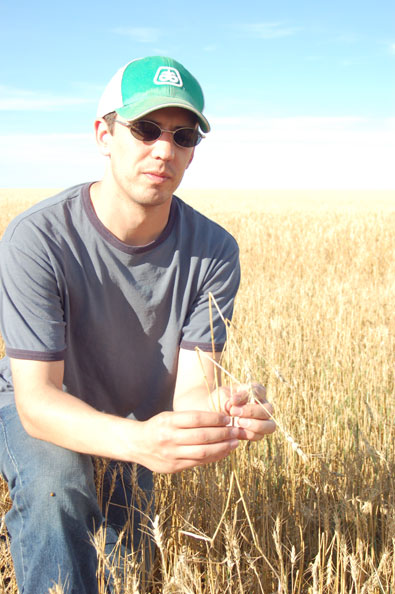 This is a shot looking straight down the row of the same field. The straw laying across the rows probably won't get picked up by the combine.