Published on:
22:14PM Jun 25, 2008
Tanner Ehmke
Harvest activity has been slow to non existent since we got rained out late Monday evening. We made a stab at getting back in the field yesterday, but with the high levels of humidity, it's been slow for the wheat to dry down to a moisture level low enough for us to harvest.
Today we'll be harvesting in full force with the extreme heat quickly drying the fields out...that is until our crew gets reorganized from this morning's accident. One of our guys from New Zealand is currently at the hospital in Dighton. While working on one of the combines, something went awry and a bolt went through his hand - the kind of farm accident you always try to avoid but inevitably happens to someone. The good news is that he'll be alright and we'll be back in the fields cutting wheat this afternoon.
In the meantime, I had a chance to speak with Gary Friesen, general manager at Scott Co-op in Scott City, Kan. He said harvest has been slow to pick up there as well with so much of the crop in the area still not yet ripe or with the high humidity delaying progress. He estimates that at the current pace, harvest will be in full swing in the area by Friday or Saturday in Scott County.
Gary doesn't have extremely high hopes for this year's crop. Due to the dryness that has lasted through fall, winter and into spring, Gary's banking on an average crop at best. Having some adequate winter snowfall would have made a huge difference, he says. On the few loads that have been brought in so far at Scott Co-op, yields have been in the mid 20s - not too terribly impressive when last year we were bringing in yields of 60, 70 or higher. While yields in the 20s may not be spectacular, he says people are pleased with what they've got considering the lack of precipitation this year.
While a lot of people in the area have been struggling with lack of moisture, things fortnuately aren't looking too bad around our farm...amazing what a few miles difference will make when it comes to weather. Below is a picture of me standing in a healthy field just south of Amy, Kan.: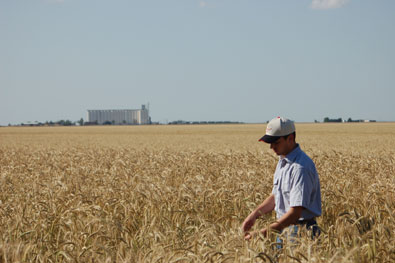 This is no ordinary field, though. This field was planted to rye. Being a grass, rye has the same growing season as wheat and will also be harvested in the coming week. This particular variety you seen in the picture will yield comparable to a good variety of wheat (45-55 bushels per acre). 
One of our other major crops is milo (sorghum), which is used as cattle feed. Instead of trying to grow corn in western Kansas - where precipitation is low and the heat index is high - we'll grow milo instead, which can better withstand the hostile growing conditions of the High Plains. Here's a picture of me in a field of milo planted a month ago. 
Like corn, milo is a spring planted row crop. This field will be harvested later this fall.