Published on:
07:39AM Apr 03, 2014
 Grains tried to recover some ground in the overnight session following Wednesday's steep slide. Soybeans were up 10 cents a bushel, while corn and wheat gained 5 and 3 cents respectively in the night trade.
After getting close to the $15 benchmark on Wednesday, May soybean futures fell sharply yesterday falling back to the $14.60 area. Basis levels on Wednesday at some key end users in the Eastern Corn Belt jumped as a result of the slide in futures.  Beans had an exceptionally bad week for sales with old and new-crop a combined 85,000 MT.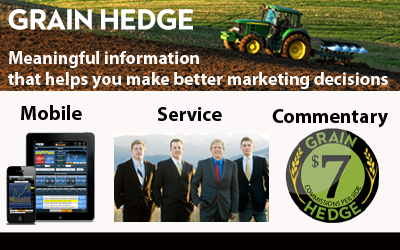 For corn, ethanol production was up sharply thanks to exceptionally good margins for processors. Ethanol prices hit an 8-year high in the past week but have started to back off those highs. Even so, processor margins remain healthy and should continue to encourage some output in the rest of the marketing year. On Wednesday, a group of Israeli private buyers purchased about 35,000 MT of optional-origin corn likely to be sourced from the United States or South America in a tender for up to 85,000 MT. Overnight, China rejected 65,225 MT of U.S. Corn and DDGS because they contained MIR 162, a transgenic trait unapproved by the Chinese Ministry of Agriculture, Xinhua Daily reports on website.
In wheat, rains in the Southern Plains along with improving weather conditions in Australia helped push wheat lower.  Wheat export sales for the week were on par with expectations as both old-crop and new-crop were around 300,000 MT.
WEEKLY EXPORT SALES (in thousand metric tons)
| | | | | |
| --- | --- | --- | --- | --- |
|   | OC Actual | OC Expected | NC Actual | NC Expected |
| Corn | 960.7 | 850-1,150 | 38 | 0-200 |
| Soybeans | 66.1 | 0-200 | 19.4 | 350-550 |
| Wheat | 336.4 | 200-400 | 310.5 | 200-400 |