Published on:
07:06AM Jan 16, 2014
Corn and wheat were fractionally higher in overnight trade, while beans were trying to hold on to a 3-cent gain after being up as much as 6 cents in the night session.
Wednesday brought more positive fundamentals for beans with China buying 106,000 MT of new-crop 2014 US soybeans. Also bullish was the NOPA crush report which showed total beans being crushed at a record high 165.384 MB versus trade expectations of 160 to 165 MB. In South America, recent weather models show wetter for Argentina for early next week. The rain event this weekend will important for Argentina as the corn crop there is reaching the pollination stage.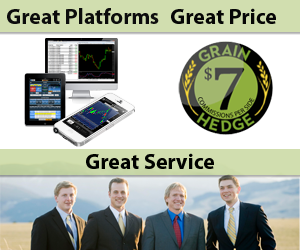 In corn, weekly ethanol production was lower with total supply for the week reaching only 868,000 BPD, off 51,000 BPD from last week and the lowest total since October.  At river terminals, basis levels have been off thanks to higher farmer deliveries and barge rates inching up from logistics problems.   River logistics north of Cairo, Illinois, remain a mess. The Illinois River has problems with ice buildup and lock repairs at LaGrange, while low water on the mid-Mississippi and restricted navigation around Thebes, Illinois, are slowing movement on that waterway. Vessel backups at Cairo are "days long" due to the upriver shipping problems.
For wheat, the Egypt's GASC announced another tender on Wednesday. SRW offers from the Gulf could again be limited due to a lack of capacity and the fact that it would be difficult to source 2.3 million bushels in short order and get it to the Gulf, traders said. Also, they said fobbing capacity is tight during that LH Feb period due to big corn and soy loading commitments. But if someone offered, the price would probably be very competitive, as US prices have taken a sharp down-turn in the past week.
WEEKLY EXPORT SALES (in thousand metric tons)
| | | |
| --- | --- | --- |
|   | Actual | Expected |
| Corn | 821 | 300-550 |
| Soybeans | 1,226.8 | 750-1,050 |
| Wheat | 401.9 | 350-600 |