Published on:
07:56AM May 29, 2014
Corn is trading down 2 ¼ cents this morning with soybeans up 5 1/2 cents continuing yesterday's move. Wheat is also trading marginally higher up 3 3/4 cents after finding some support in yesterdays session.
Israeli private buyers purchased just over 108,000 tonnes of corn and 40,000 tonnes of feed wheat which closed yesterday. The grain was to be sourced from the United States and the Black Sea. Also across the news wires yesterday was a 110,000 tonne sale of U.S. Soybeans to China for the 14/15 marketing year and an additional sale of 172,000 tonnes of U.S. Soymeal to the Philippines for the same delivery period.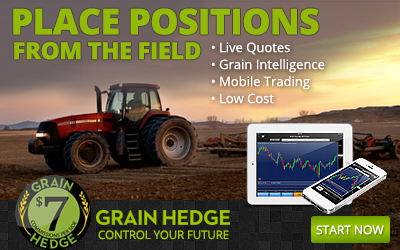 As corn futures continue to grind lower, basis levels are improving at a number of key facilities. Yesterday we saw spot corn basis improve 7 cents in Columbus, NE, now trading 2 cents above the July contract. This looks to be part of a larger trend in basis which has improved 2 cents on average across the country in just the last week. The river system has led the charge higher, averaging basis improvements of 4 cents over the week. With old crop ending stocks projected at just 1,146 million bushels basis may need to do the work in the summer months to pull remaining grain stocks from farmers. Contact the Grain Hedge office today to start taking advantage of our basis tools available free to trading clients. A Grain Hedge broker would be happy to discuss your best markets and help make the most of any remaining old crop sales.
On the weather front, today should be a nice window of planting for producers in North Dakota, South Dakota and Minnesota where planting pace continues to lag. However, tomorrow should usher in more rains for them which should continue until Tuesday next week. That weather system should track toward the east providing moisture throughout the grain belt. For the most part the market has shifted its focus away from planting pace concerns as planting pace is sufficient compared to the average pace. Traders focus is shifting more toward precipitation and emergence.
EIA ethanol numbers will be released later today and export sales will be released on Friday. Both reports were delayed one day in recognition of Memorial Day.