Published on:
09:33AM Apr 19, 2013
It was a tale of two markets this week in the cash soybean market.  Domestic end users were sharply lower on basis as soybean crushing plants begin to cut back production in anticipation of future lower prices, while river markets continue to be bolstered by strong international demand. For the week, U.S soybean basis fell 5 cents a bushel while corn basis continued to tow the line at unchanged.
In the corn market, sluggish export demand keeps basis levels stagnate although still mostly holding up at lofty levels. Ethanol processors did bid up basis this week by 1-cent a bushel on average as ethanol processing margins continue to hold up at their highest levels of the marketing year. However, at the Gulf spot corn basis was unchanged as US export business continues to be non-existent.   Basis levels at river terminals averaged a 1-cent loss.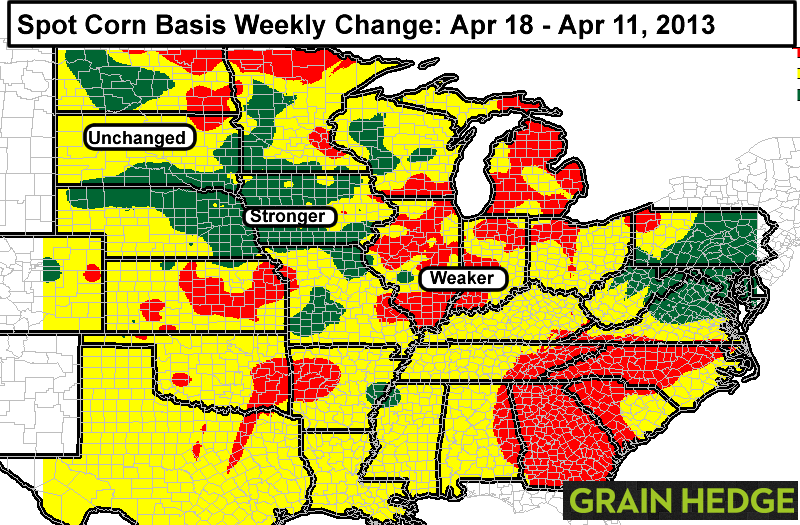 For soybeans, the average US spot soybean basis was down by 5-cents a bushel, but this masked the divergence across the two key sectors. At the Gulf, export basis levels bucked the broader trend which helped push basis levels along the lower river system higher. Upper river terminals are starting to run into flooding issues which is beginning to cause some stoppages of deliveries and limiting basis gains there. For crushing plants, double-digit losses in the Eastern Cornbelt were fairly widespread, while Western processors were down only slightly or even stronger.