Published on:
06:59AM Mar 18, 2014
 Grains were higher overnight with soybeans leading the complex higher on a 12-cent advance. Corn and wheat followed with 3 cent gains in the night trade.
On Monday, NOPA monthly crush figures for February came in stronger than expected with total crush hitting 141.6 MB versus trade expectations of 140.9 MB.  Soyoil stocks rose along seasonal lines with inventories climbing to 1.893 billion pounds from the January inventory of 1.789 billion pounds. In Argentina, a soybean cargo ship that ran aground nine days ago in Rosario has slowed exports longer than expected while port workers threaten to go on strike later this month if hefty wage demands are not met. The work of lightening the cargo to free the ship is going slowly and will continue at least until Wednesday, Guillermo Wade, manager of Argentina's port chamber, said.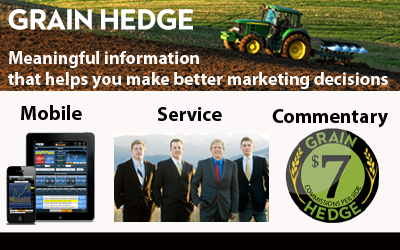 In corn, a South Korea feed group bought a 193,000 MT overnight believed to be sourced from the US and South America. In the US, farmer movement of grain has begun to slow and some basis levels are inching higher at key buyers around the country.
For wheat, USDA reported declining winter wheat conditions in the Southern Plains. Kansas wheat ratings declined from 37% good to excellent last week to 34% good to excellent this week. Windy conditions and limited precipitation across much of the state drew down topsoil moisture supplies, with much of the western half of the Kansas continuing in severe drought. Available soil moisture continued to be a concern going into spring. In Oklahoma wheat ratings declined with 18% rated good to excellent, down from 22% a week ago. And in Texas, ratings plummeted to 13% good to excellent, down from 28% a week earlier. Egypt's GASC issued another round of wheat tenders on Monday, but US involvement is unlikely given logistics issues.