Published on:
08:06AM May 09, 2014
 USDA REPORT OUT AT 11:00 AM CENTRAL TIME
Reach us at 877-472-4607 with questions or for assistance on report day
Corn and soybeans had a quiet overnight session coming into today's USDA report. Corn is down 2 cents while soybeans is up a penny. The wheat complex is trading lower after a strong week of price action. At the moment, Chicago wheat is down 7 cents, Kansas City off 8 cents, and Minneapolis down 6 cents.
The May USDA report will be the big driver of today's trade action. This report will be released at 11:00 AM Central Time and will be the first report to show both old and new crop ending stock projections. Below are trade expectations and our bias on the numbers. Tune in to GrainTV this afternoon for a full breakdown of USDA numbers and what this could mean for prices moving forward.  
  2014/15 U.S. Ending Stocks (Million Bushels)
 

2013/14
Projected

2014/15
Expected  

Corn

1,331

1,672

Soybeans

135

307

Wheat

583

559
Assuming normal growing conditions, 2014/15 should be a very different marketing year for corn and soybeans. Analysts expect soybeans to see the largest year-over-year stock increase, with carryout expected to climb to 307 million bushels from the 135 million bushels projected for 2013/14. Acreage will be the driver of larger new crop soybean ending stocks, with a record 81.5 million acres expected to be planted this spring by U.S. farmers. Considering the recent technical break in the November 14 soybean contract, and large ending stock expectations in today's report, it is a good time to consider pricing a portion of 2014/15 production.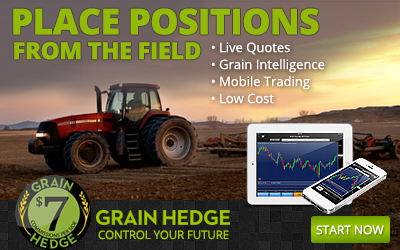 Corn ending stocks are expected to surge as well, although not to the same degree as soybeans. On average analysts expect the USDA to project 1.672 billion bushels in new crop carryout, roughly 300 million bushels higher than current marketing year figures. Ending stock projections for the new crop are quiet varied with some analysts actually expecting a lower carryout in the new marketing year. Considering concerns over U.S. corn planting and the strong technical picture for December 14 futures, we would expect new crop corn to show relative strength into the report with respect to soybeans. 
Wheat stocks are expected to be slightly lower for the 2014/15 marketing year, largely driven by smaller planted acreage and poor growing conditions across the southern Plains. In Kansas alone wheat production is expected to fall by 68 million bushels in 2014/15 to just 260 million bushels. If realized, this would be the smallest Kansas harvest since 1996 with similar crop conditions seen in Oklahoma, Texas, and Nebraska. Further limiting overall production is a wheat acreage figure which is expected to be 1% lower than 2013.

2013/14 U.S. Ending Stocks (Million Bushels)
 

April
Projected

May
Expected  

Corn

1331

1314

Soybeans

135

134

Wheat

583

588
Old crop ending stocks are expected to be relatively unchanged from April estimates, with old crop corn being the one exception. Analysts expect ending stocks to be lowered by 17 million bushels as export sales and inspections have remained strong during the month of April. Our models show corn export sales 179 million bushels ahead of pace to meet the projections from the April USDA report. Ethanol usage is another demand side number that could be revised in Friday's report, with ethanol crush margins averaging $4.94 per bushel during the month of April. This is up sharply from the $3.27 average seen during the months of February and March.
Have questions or need assistance on report day? We are in the office between 8AM and 5PM central time and would be happy to discuss the markets.
877-472-4607