Published on:
11:41AM May 09, 2014
 2014/15 U.S. Ending Stocks (Million Bushels)
 

2014/15
Expected  

2014/15

Reported

Corn

1,672

1,726

Soybeans

307

330

Wheat

559

540
Corn
New crop corn is trading down 12 cents after the report was released with larger than expected ending stocks forecast by the USDA. USDA's forecast ending stocks of 1,726 million bushels was over the average analyst guess of 1,672 million bushels. In this forecast the USDA used a yield forecast of 165.3 bushels per acre based on "weather adjusted trend model and assumes normal mid-May planting progress and summer weather." Although this number is smaller than last year's May WASDE forecast of 2,004 million bushels ending stocks, todays surprise is enough to put some negative pressure on the contract immediately following the report.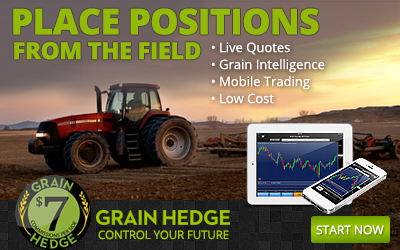 Old crop corn ending stocks were projected at 1.146 billion bushels, well below trade expectations and 185 million bushels lower than the April report. Ethanol usage was raised 50 million bushels and exports were increased by 150 million bushels following exceptional export sales and inspections during April.
Soybeans
New crop soybean ending stocks came in well above trade expectations, projected at 330 million bushels for the 2014/15 marketing year. Production is expected to increase 346 million bushels from 2013/14, with only 60 million bushels added to total usage. These production and use figures will pressure the November soybean contract, especially considering the weak technical environment. In the USDA report, average on-farm prices for 2014/15 are projected between $9.75 and $11.75 per bushel. World ending stocks is also bearish longer term, with a record 82.23 million tons projected for world carryout in 2014/15
Old crop soybean saw a 5 million bushel revision from the April report, with ending stocks for 2013/14 projected at 130 million bushels. Imports were raised by 25 million bushels, crushings raised 10 million bushels, exports raised 20 million bushels. On net, usage was raised 30 million bushels from the April report. This report should be supportive for the July contract but at the moment old crop soybeans looks to be getting dragged lower by the very large new crop carryout projection.
Wheat
2014/15 wheat ending stocks were projected at 540 million bushels, well below the 559 million bushels projected by traders coming into the report. Yield was projected at 42.7 bushels per acre, nearly 5 bushels per acre lower than reported for the old crop. This may support wheat longer term, but at the moment we see Chicago wheat trading down 5 cents and Kansas City wheat off 3 cents. After moving 60 cents higher since mid-April on production concerns, traders seem reluctant to buy wheat futures on today's news.