Published on:
06:05AM Feb 21, 2013
 Grains were lower overnight as wet weather continued in the Midwest and Plains from massive Winter Storm Q.  Wheat prices were off 5 cents while corn was down 2 cents. Soybean prices posted a 4-cent loss.  
For wheat, Winter Storm Q continues to provide heavy snow and moisture to key Plains regions that have been locked in widespread drought. Yesterday, precipitation accumulations totaled 0.5 an inch as snow fall of 6 inches were fairly typical. This morning finds heavy snow continuing to blanket much of the region which should add to the totals from yesterday. On the export front, Egypt bought US soft red winter wheat on Wednesday at $296.75 a ton.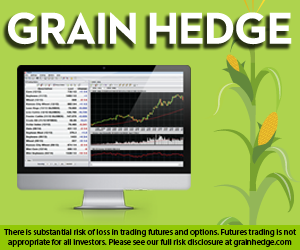 In soybeans, prices have stalled out unable to take out key resistance in the $14.95 region for nearby March futures. On the fundamental front, soybean prices have been supported this week by dry weather in Argentina and threat of labor strife by Brazil's dock workers.  Port workers there plan to walk off the job on Friday morning and again Tuesday afternoon, and threaten to prolong their work stoppage if the government's planned port regulations reform is implemented. Crop forecaster Lanworth on Wednesday said it expects U.S. soybean production to rise to 3.465 billion bushels in the 2013/14 crop year, based on average yield of 43.1 bushels per acre.
For corn, nearby prices continue to be pressured by lack of any noticeable demand base. New-crop futures also continue to sink lower as traders look for a large increase in corn plantings this spring. Good moisture levels in the Eastern Cornbelt combined with attractive prices have some expecting a 99 million acre crop this spring, the biggest in nearly 80 years. USDA's Ag Outlook Forum begins today and should provide some guidance to the market about potential crop size based on USDA economist expectations.