Published on:
04:22AM Feb 10, 2014
Grains started the week on a down note, with corn and wheat trading 3-cents lower following last week's advances, while soybeans were fractionally higher.
Traders are awaiting fresh supply and demand data to be released by USDA today at 11:00 am CST. The report is expected to show minimal changes in old-crop ending stocks, with the consensus of analysts looking for small cuts to the carryout for all three crops.  Higher exports of late have helped firm the price outlook.
2013/14 US Ending Stocks (Million Bushels)
 

February 
Expected

January

Reported

Corn

1,619

1,631

Soybeans

143

150

Wheat

603

608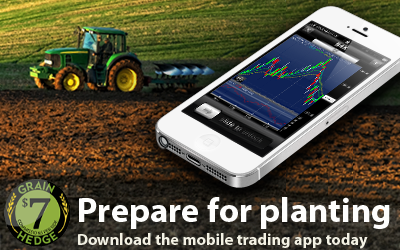 In corn, Friday brought another announced sale with USDA stating that 141,200 MT of US corn had been sold to unknown destinations. Although China continues to block US shipments of GMO corn from the US, other Asian buyers have stepped up their purchases in recent weeks. A USDA attache' report suggests Chinese corn stocks will reach their highest level in a decade thanks to above average yields this past growing season and slowing industrial usage. The attache' report suggests China's slow and unpredictable biotechnology regulatory system has created a challenging environment for agricultural imports that is likely to persist or worsen.
For beans, Brazil's biggest grain cooperative, Coamo, said dry, hot weather has seriously hurt the country's soy crop, which is in the early stages of a record 90-million-tonne-plus harvest. Coamo President José Aroldo Gallassini told Reuters in an interview on Friday that weather forecasts for 10 more days of drought and high temperatures will deepen the losses to the crop. "If it rains today -- and it won't -- there will be losses. If it doesn't rain for another 10 days, the losses will be more violent. We will need to wait and see" how big the losses will be, Gallassini said.
In wheat, prices are being pressured as weather models forecast moisture across key U.S. growing regions which have seen crops suffer due to dryness in January. Snow showers hit Kansas on Sunday, providing some relief for crops. Wheat had drawn support from declining crop rating conditions in Kansas, the top U.S. producer of the crop.