Published on:
15:31PM Sep 04, 2008
The chart of the week is recent USDA choice beef cutout and primal market average increases compared to the prior year.  The USDA choice boxed beef cutout index is released daily and is used as an indicator of overall choice beef prices.  The primal markets are indexes of the different sections of the bovine carcass. For the most part, the restaurant industry typically focuses on two primals, the ribeye and loin which produce most of the tender steaks that consumers enjoy at home and at restaurants.  As one can tell below, the recent inflation in the USDA choice beef cutout has been mostly due to appreciation in many of the end cut sections of the carcass.  This could be could good news for beef middle meat and portioned steak buyers going forward.  Probably not good news for beef trimming and grinds buyers. How so? Well, appreciation in the end cuts and grinds is enabling beef packers to sell middle meat products at a discount to a year ago while at the same time receiving more value for their carcass. Yes packers would like to sell middle meat cuts at higher prices, but at this stage the general consumer doesn't seem able to support them. So going forward we may see more of the same if retailers and consumers focus on the less expensive beef cuts. Beef steak cut prices below year ago levels, and end cuts, grinds and trimmings at sharply higher levels than last fall.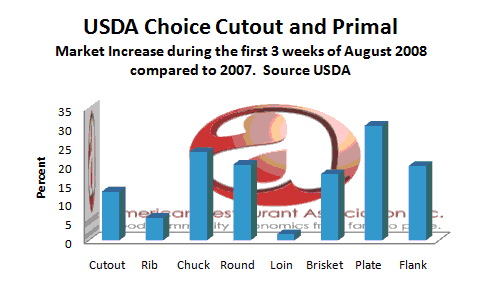 These comments and data are provided for information purposes only and are not intended to be used for specific trading strategies.  Past financial results are not necessarily indicative of future performance.  Any examples given are strictly hypothetical and no representation is being made that a person will or is likely to achieve profits or losses similar to those examples.  Neither the information, nor any opinion expressed constitutes a solicitation to buy or sell futures or options on futures contracts or OTC products.  Covered parties (as defined below) shall not be liable for any direct, indirect, incidental, special or consequential damages of any kind, whatsoever (including attorney's fees and lost profits or savings) in any way due to, resulting from, or arising in connection with this email, including it's content, regardless of any negligence of the covered party including but not limited to technical inaccuracies and typographical errors.  "Covered Parties" is defined as American Restaurant Association Inc., ARA Trading and the employees of both companies. Commodity trading involves risks, and you should fully understand those risks before trading.