Published on:
08:00AM Jul 11, 2008
As I wrote just over a month ago, the beef markets typically depreciate after the Memorial Day Holiday. And if you are a regular reader you would probably tell me that you are still waiting for the beef markets to decline. My reply would be, "So am I." The beef markets have appreciated considerably since mid June climbing to their highest price levels in some time. Pretty impressive given the "challenged US economy" and $4.00 gasoline. Why are beef prices so high? Good question and I don't think there is a single answer. But one of the main reasons is likely due to a modest downturn in overall beef production. 2008 beef production through May is estimated by the USDA to have been 4.5% larger than a year ago…a big increase. However, extracting weekly June slaughter data suggests that June beef output was roughly .8% (or some 18 million pounds) less than last year. Additionally, June beef output is estimated to have been somewhere close to 2% less than May of this year marking the first June beef output decrease compared to May since 2001. Going forward I expect to see some weakness in the beef markets over the next few weeks but I do have some bullish market concerns. Chiefly, our estimates suggest that the near slaughter ready cattle supply for the next few months will be considerably tighter than a year ago. Further, cattle weights could trend below 2007 during that time period. And these factors could be even more bearish to beef output than what we experienced last month.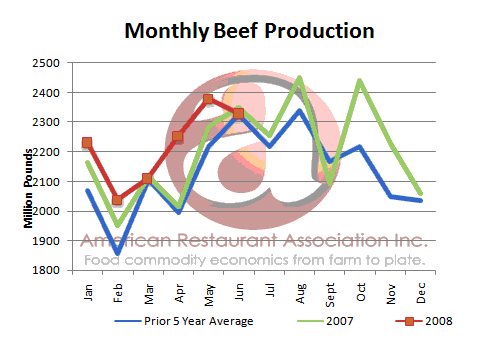 These comments and data are provided for information purposes only and are not intended to be used for specific trading strategies.  Past financial results are not necessarily indicative of future performance.  Any examples given are strictly hypothetical and no representation is being made that a person will or is likely to achieve profits or losses similar to those examples.  Neither the information, nor any opinion expressed constitutes a solicitation to buy or sell futures or options on futures contracts or OTC products.  Covered parties (as defined below) shall not be liable for any direct, indirect, incidental, special or consequential damages of any kind, whatsoever (including attorney's fees and lost profits or savings) in any way due to, resulting from, or arising in connection with this email, including it's content, regardless of any negligence of the covered party including but not limited to technical inaccuracies and typographical errors.  "Covered Parties" is defined as American Restaurant Association Inc., ARA Trading and the employees of both companies. Commodity trading involves risks, and you should fully understand those risks before trading.