Published on:
08:07AM Aug 08, 2008
The chart of the week is the Weekly Chicken-Feed Cost Ratio (an indicator of producer profitability) versus the Boneless Skinless Chicken Breast Market.  You may have heard it said;  "As the boneless breast market goes, chicken producer profitability goes."  The chart below supports this.  As chicken breast prices have risen historically chicken producer margins have improved and vice versa.  Its well documented that chicken producer profitability has struggled in recent months due mostly to the surge in feed costs (primarily corn and soybean meal). In response chicken producers have cut future chicken production plans. Broiler egg sets last week were 4.4% less than last year marking the largest decline in at least 5 years. The 6 week moving average for broiler egg sets is currently at its lowest level for the time period since 2003. Given that broiler eggs are set roughly 10 weeks before the bird comes to slaughter, chicken output is anticipated to fall below year ago levels sometime in September. The question is; Will the forthcoming chicken production cutbacks be enough to drive chicken prices higher and return profitability for most of the industry? As the chart depicts, chicken producers will be facing a strong headwind this fall as chicken breast prices typically move lower. And as the boneless breast market goes, chicken producer profitability goes.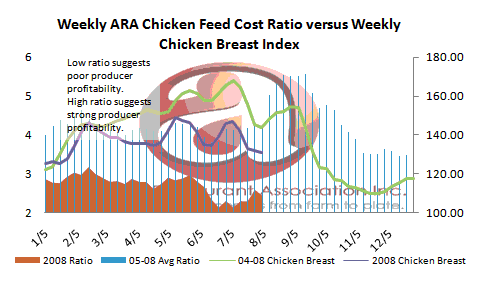 These comments and data are provided for information purposes only and are not intended to be used for specific trading strategies.  Past financial results are not necessarily indicative of future performance.  Any examples given are strictly hypothetical and no representation is being made that a person will or is likely to achieve profits or losses similar to those examples.  Neither the information, nor any opinion expressed constitutes a solicitation to buy or sell futures or options on futures contracts or OTC products.  Covered parties (as defined below) shall not be liable for any direct, indirect, incidental, special or consequential damages of any kind, whatsoever (including attorney's fees and lost profits or savings) in any way due to, resulting from, or arising in connection with this email, including it's content, regardless of any negligence of the covered party including but not limited to technical inaccuracies and typographical errors.  "Covered Parties" is defined as American Restaurant Association Inc., ARA Trading and the employees of both companies. Commodity trading involves risks, and you should fully understand those risks before trading.