Published on:
12:14PM Jul 17, 2008
It's a fear for just about every guy; you take your date to the dance and she leaves with somebody else. Do you think ethanol has been feeling a little slighted lately?  The chart below is a rough estimate of ethanol producer margins. The chart illustrates two major particulars regarding the ethanol industry. First, ethanol producer margins have waned from a year ago which has been well documented. Second, when the corn markets had their latest run up it became very difficult if not impossible for ethanol producers to hedge or lock in profitable margins…also well documented. It's the second particular that I want to focus on this week.  Could ethanol growth be slowed sooner rather than later? We remember that the USDA current forecast has an additional 1 billion bushels of corn going to ethanol with the upcoming crop compared to 2007/08. And assuming the USDA 11.7 billion bushel crop forecast materializes, if corn prices remain or climb to levels where margins are especially challenging for ethanol producers we could see a lot more available corn on the market for 2008/09. Could ethanol producers run at less than capacity? Could corn usage growth for ethanol be slowed or flat? The answer is; look what happened to the US biodiesel industry with $65 soybean oil. The corn markets have retreated since mid June which suggests the markets believe the 11.7 billion bushel crop is there. Additionally, ethanol producer margins have appeared to improve. But it will be especially interesting going forward to see if corn remembers that it was ethanol that initially brought it to this enduring bull market dance.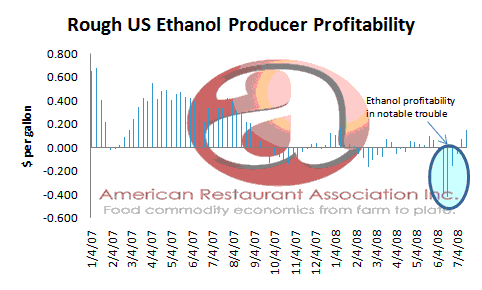 These comments and data are provided for information purposes only and are not intended to be used for specific trading strategies.  Past financial results are not necessarily indicative of future performance.  Any examples given are strictly hypothetical and no representation is being made that a person will or is likely to achieve profits or losses similar to those examples.  Neither the information, nor any opinion expressed constitutes a solicitation to buy or sell futures or options on futures contracts or OTC products.  Covered parties (as defined below) shall not be liable for any direct, indirect, incidental, special or consequential damages of any kind, whatsoever (including attorney's fees and lost profits or savings) in any way due to, resulting from, or arising in connection with this email, including it's content, regardless of any negligence of the covered party including but not limited to technical inaccuracies and typographical errors.  "Covered Parties" is defined as American Restaurant Association Inc., ARA Trading and the employees of both companies. Commodity trading involves risks, and you should fully understand those risks before trading.