Published on:
12:56PM Aug 14, 2008
US agricultural exports for the most part have grown considerably in recent years. The deflated US dollar has opened some doors and the world so far is greeting us with a friendly; "more please." In June, nearly half of the 17 million pound increase in US butter exports was to countries that we did not ship any butter to in June of 2007. With different international economies growing so is their consumption of commodities. In the news recently, the US and Russia agreed to a 20% decline in the Russian import quota for US chicken in 2009. Basically, Russia wants to be less dependent on US chicken for a protein source. So they are trying to increase domestic production. Sound familiar? The question is:  Can Russia and other emerging economies including China increase domestic production enough to offset an increase in consumption as their economies grow? The chart below suggests they haven't been able to do it thus far. The chart is total domestic production for pork, chicken and beef by three of the most recognized "emerging economies" China, Russia and India less their total growth in consumption. And as the chart depicts, especially in the case for chicken and pork, that consumption growth is outpacing production expansion leaving the good old USA to help make up the difference. Given the current difficult operating environment (due to higher input costs) for protein producers worldwide, this could be a trend that persists in the coming years which may be very bullish for US dairy and protein exports.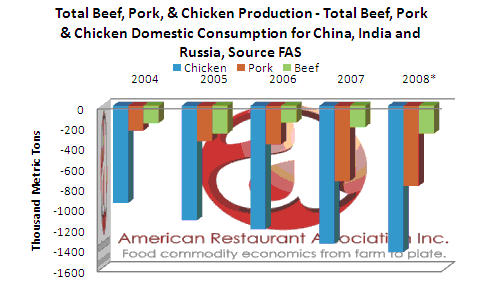 These comments and data are provided for information purposes only and are not intended to be used for specific trading strategies.  Past financial results are not necessarily indicative of future performance.  Any examples given are strictly hypothetical and no representation is being made that a person will or is likely to achieve profits or losses similar to those examples.  Neither the information, nor any opinion expressed constitutes a solicitation to buy or sell futures or options on futures contracts or OTC products.  Covered parties (as defined below) shall not be liable for any direct, indirect, incidental, special or consequential damages of any kind, whatsoever (including attorney's fees and lost profits or savings) in any way due to, resulting from, or arising in connection with this email, including it's content, regardless of any negligence of the covered party including but not limited to technical inaccuracies and typographical errors.  "Covered Parties" is defined as American Restaurant Association Inc., ARA Trading and the employees of both companies. Commodity trading involves risks, and you should fully understand those risks before trading.