Published on:
18:09PM Jul 24, 2008
This may be the first time I spend my weekly blog writing about a produce item but my point is broader as hopefully you will see. This week the discussion involves potatoes. The USDA recently published their estimate for 2008 Idaho fall potato acreage which is 300,000. Sounds like a lot of acreage going to one product in one state but as we look further plantings are 14% or 50,000 acres less than a year ago. As a matter of fact, Idaho potato acreage this year is the lowest since 1980. About 90% of the US potato acreage is designated for the Fall season and Idaho last year accounted for 35% of the total acreage in the US. In short, Idaho potato acreage is "no small potatoes" in reference to the entire US potato supply. So where did all of the potato acreage go in Idaho? Good question. Spring wheat acreage in Idaho this year is forecasted to be 15% higher than a year ago and the largest since 2000. Grain corn acreage in the state this year is forecasted to be 7% more than a year ago and the largest on record. These two very profitable grain crops account for a 90,000 acre increase this year. For the first time recorded, corn acreage in Idaho is surpassing potatoes. What's my point? Rising grain prices are leading to broader food inflation than initially meets the eye. The rise in wheat and bread prices are well documented. Expectations are for higher protein prices in the coming years due in part to inflated feed costs. And because grains have become so profitable to plant, other crops including potatoes may continue to experience below average acreage over the next few years leading to market inflation in those products.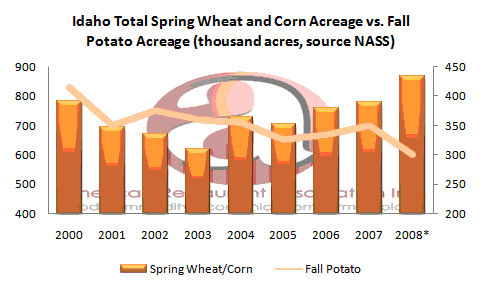 These comments and data are provided for information purposes only and are not intended to be used for specific trading strategies.  Past financial results are not necessarily indicative of future performance.  Any examples given are strictly hypothetical and no representation is being made that a person will or is likely to achieve profits or losses similar to those examples.  Neither the information, nor any opinion expressed constitutes a solicitation to buy or sell futures or options on futures contracts or OTC products.  Covered parties (as defined below) shall not be liable for any direct, indirect, incidental, special or consequential damages of any kind, whatsoever (including attorney's fees and lost profits or savings) in any way due to, resulting from, or arising in connection with this email, including it's content, regardless of any negligence of the covered party including but not limited to technical inaccuracies and typographical errors.  "Covered Parties" is defined as American Restaurant Association Inc., ARA Trading and the employees of both companies. Commodity trading involves risks, and you should fully understand those risks before trading.