Published on:
11:21AM Oct 03, 2008
The chart of the week is the annual decline in the September 1st swine breeding herd inventory.  As noted in previous issues of the Weekly Commodity Report, pinched hog producer margins have propelled hog producers to reduce some of their breeding herd in an effort to decrease the available supply of market hogs in the future.  Eventually this could be very bullish for pork prices as a lesser supply of market ready hogs will tighten pork production and thus pork cut supplies. The September 1st breeding herd has decreased by 160,000 head since it began the decline in September of last year. From a recent historical perspective this is a notable decline. However, further analysis of the data suggests that the breeding herd decline has slowed some in recent months. The breeding herd decline from June through September was only 20,000 head which, compared to other swine herd liquidation years, is very modest. Why has the breeding herd reduction slowed? Significantly inflated pork and hog prices, which caused hog farmer margins to improve this summer, are likely the culprit. Recently we have experienced significant depreciation in the pork and hog markets which signals that breeding herd liquidation could escalate again this fall.   And if so, it could eventually be bullish for hog and pork markets.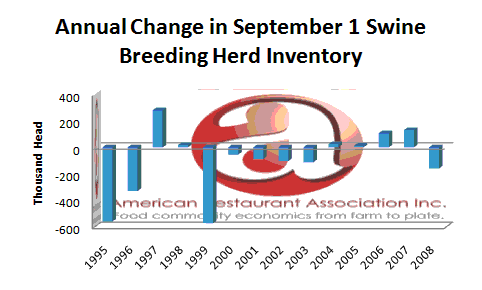 These comments and data are provided for information purposes only and are not intended to be used for specific trading strategies.  Past financial results are not necessarily indicative of future performance.  Any examples given are strictly hypothetical and no representation is being made that a person will or is likely to achieve profits or losses similar to those examples.  Neither the information, nor any opinion expressed constitutes a solicitation to buy or sell futures or options on futures contracts or OTC products.  Covered parties (as defined below) shall not be liable for any direct, indirect, incidental, special or consequential damages of any kind, whatsoever (including attorney's fees and lost profits or savings) in any way due to, resulting from, or arising in connection with this email, including it's content, regardless of any negligence of the covered party including but not limited to technical inaccuracies and typographical errors.  "Covered Parties" is defined as American Restaurant Association Inc., ARA Trading and the employees of both companies. Commodity trading involves risks, and you should fully understand those risks before trading.