Published on:
04:33AM Sep 12, 2008
The chart of the week is US pork production.  As one can tell from the chart below, pork production typically increases during the fall.  As pork production seasonally increases into the fall the value of the pork cutout (index of pork prices) typically moves lower. Usually somewhere around 10% lower. Thus the coming weeks could be an opportune time to look at long term pork contracts. Why? Well first, a reduction in the swine breeding herd is expected to lead to a downturn in pork production in 2009. And second, eventually, the deferred hog futures contracts could start appreciating if the trade feels that hog supplies could be further reduced by the recent downturn in prices. The trick may be to catch the downside momentum in both contracts before any upward reaction in deferred hog futures occurs.  Give us a call if you would like to learn more.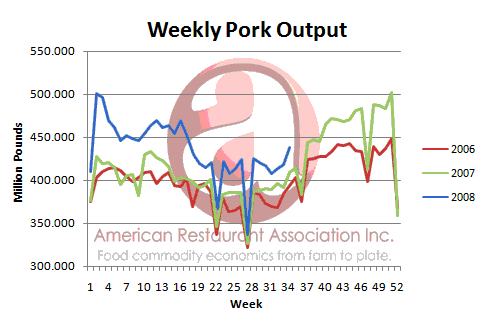 These comments and data are provided for information purposes only and are not intended to be used for specific trading strategies.  Past financial results are not necessarily indicative of future performance.  Any examples given are strictly hypothetical and no representation is being made that a person will or is likely to achieve profits or losses similar to those examples.  Neither the information, nor any opinion expressed constitutes a solicitation to buy or sell futures or options on futures contracts or OTC products.  Covered parties (as defined below) shall not be liable for any direct, indirect, incidental, special or consequential damages of any kind, whatsoever (including attorney's fees and lost profits or savings) in any way due to, resulting from, or arising in connection with this email, including it's content, regardless of any negligence of the covered party including but not limited to technical inaccuracies and typographical errors.  "Covered Parties" is defined as American Restaurant Association Inc., ARA Trading and the employees of both companies. Commodity trading involves risks, and you should fully understand those risks before trading.