Published on:
11:42AM Mar 18, 2010
The chart of the week is the annual US per capita consumption of red meat and poultry as forecasted by the USDA.  As mentioned numerous times in my previous articles we are in the midst of an historic change in protein production.  In 2009, chicken output declined for the first time in 34 years.  Beef, pork and chicken output all fell together in 2009 for the time in at least the last 38 years.  I often remind clients that these supply changes are likely something we will only experience once or twice in our careers.  In a normal economic environment, this would be very bullish for protein prices.  But obviously we are not in a normal economic environment.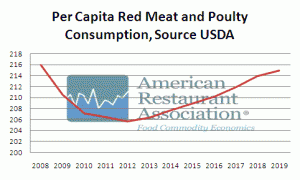 Protein demand has been challenged to say the least and as far as the USDA is concerned these challenges will persist for at least the next couple of years.  The USDA anticipates that most of the challenge is going to be felt in the beef complex.  Per capita beef consumption is forecasted to decline for each of the next four years and still be 7% below 2008's level in 2019 (That's not a typo).  Pork per capita consumption is projected to begin trending higher in 2013 but not even come close to reaching 2009's level in the next 9 years.  Chicken consumption looks much better than the other proteins but even there per capita consumption is not anticipated to eclipse 2008's level until 2013.  If the USDA is correct, and there no major reason to think they are not, domestic consumption patterns will provide a strong headwind to tighter supply induce protein inflation in the coming years.
*These comments and data are provided for information purposes only and are not intended to be used for specific trading strategies.  Past financial results are not necessarily indicative of future performance.  Any examples given are strictly hypothetical and no representation is being made that a person will or is likely to achieve profits or losses similar to those examples.  Neither the information, nor any opinion expressed constitutes a solicitation to buy or sell futures or options on futures contracts or OTC products.  Covered parties (as defined below) shall not be liable for any direct, indirect, incidental, special or consequential damages of any kind, whatsoever (including attorney's fees and lost profits or savings) in any way due to, resulting from, or arising in connection with this email, including it's content, regardless of any negligence of the covered party including but not limited to technical inaccuracies and typographical errors.  "Covered Parties" is defined as American Restaurant Association Inc., ARA Trading and the employees of both companies.  Commodity trading involves risks, and you should fully understand those risks before trading.