Published on:
11:47AM Aug 28, 2008
The chart of the week is annual chicken export growth to Russia compared to domestic chicken breast prices. US pork exports to Russia have grown significantly in recent years. US chicken exports to Russia during the first half of 2008 accounted for 30% of total US chicken exports. Earlier this week Russia's agricultural minister,  Alexei Gordeyev, announced that they are considering reducing current pork and poultry import quota agreements with supplying countries. The perception is that the announcement is in retaliation to US's support of Georgia in the Russia/Georgia conflict. History tells us that this isn't good news. In the winter of 2002, the US angered Russia with the announcement of steel import tariffs which impacted about a third of the Russian steel industry. Soon thereafter, Russia's agricultural minister,  Alexei Gordeyev (name sound familiar?), announced concerns that US poultry was "full of additives" and US chicken exports to the country plummeted. US chicken exports to Russia in 2007 were the 2nd highest this decade but still 17.4% less than 2001's record high. In short, we have yet to fully recover from the trade slowdown in 2002. Roughly 95% of the chicken that the US exports to Russia is made up of leg quarters. From a US consumer standpoint, strong leg quarter exports to Russia is a win because it adds value to the chicken and enables US chicken producers to sell chicken breasts (preferred cut in the US) at a discount. A decline in exports and leg quarter prices forces chicken producers to get a premium for breast meat. After the slowdown year in 2002, the boneless skinless chicken breast market climbed upward to record high price levels in 2004. Now one could make the argument that the US has somewhat diversified its chicken export client base since 2002 which may dampen the consequence of any cutback in trade. But given the current economic environment for chicken producers, chances are that any export deceleration may have an even greater impact on chicken breast prices going forward.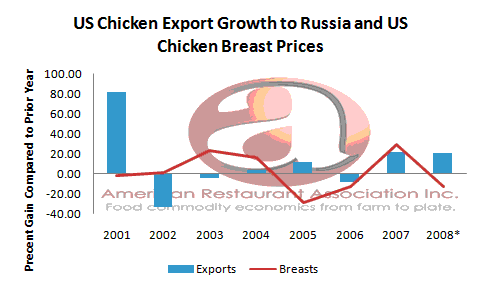 These comments and data are provided for information purposes only and are not intended to be used for specific trading strategies.  Past financial results are not necessarily indicative of future performance.  Any examples given are strictly hypothetical and no representation is being made that a person will or is likely to achieve profits or losses similar to those examples.  Neither the information, nor any opinion expressed constitutes a solicitation to buy or sell futures or options on futures contracts or OTC products.  Covered parties (as defined below) shall not be liable for any direct, indirect, incidental, special or consequential damages of any kind, whatsoever (including attorney's fees and lost profits or savings) in any way due to, resulting from, or arising in connection with this email, including it's content, regardless of any negligence of the covered party including but not limited to technical inaccuracies and typographical errors.  "Covered Parties" is defined as American Restaurant Association Inc., ARA Trading and the employees of both companies. Commodity trading involves risks, and you should fully understand those risks before trading.