Published on:
10:49AM Mar 11, 2010
There has been a lot of speculation regarding the value of the U.S. dollar index and its impact on commodities.  And yes, there is a strong correlation between the two.  Since bottoming in the fall, the dollar index has risen roughly 6%.  A rising dollar is bearish for commodities because it discourages U.S. exports and discourages U.S. imports.  Nearly 83% of the value of the U.S. dollar index is made up of the Euro, the yen and the pound.  The U.S. dollar index in recent years has had a very strong inverse relationship with crude oil prices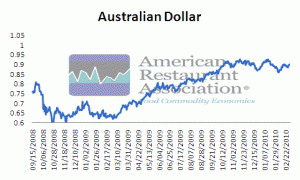 .  Thus, at least longer term, the value of the U.S. dollar index could have a big impact on restaurant commodity prices.  But one could argue that for the short term the biggest currency influence on restaurant commodity prices could be the Australian dollar.  You see, a notable portion of the lean boneless beef that is utilized in the U.S. for ground beef products is imported from Australia.  And in the past, a rising Australian dollar has been very bullish for U.S. lean boneless beef trimming and thus ground beef prices.
*These comments and data are provided for information purposes only and are not intended to be used for specific trading strategies.  Past financial results are not necessarily indicative of future performance.  Any examples given are strictly hypothetical and no representation is being made that a person will or is likely to achieve profits or losses similar to those examples.  Neither the information nor any opinion expressed constitutes a solicitation to buy or sell futures or options on futures contracts or OTC products.  Covered parties (as defined below) shall not be liable for any direct, indirect, incidental, special or consequential damages of any kind, whatsoever (including attorney's fees and lost profits or savings) in any way due to, resulting from, or arising in connection with this e-mail, including its content, regardless of any negligence of the covered party including but not limited to technical inaccuracies and typographical errors.  "Covered Parties" is defined as American Restaurant Association Inc., ARA Trading and the employees of both companies.  Commodity trading involves risks, and you should fully understand those risks before trading.